From Summer Going Into Fall Drawing!!!
The Autumnal Equinox happened on September 22nd. Which starts the autumn season in the northern hemisphere!
We are giving away this Weather Station Radio and you could be the winner!!!!
To get into the drawing, all you have to do is make any donation between now and October 31st, 2014. Your contribution will help continue operation and maintenance of this weather station! You can use the donate button below to make a secure donation with PayPal. No amount is too small. Donations can also be made securely using any of the major credit cards. We will draw one name on October 31st and announce the winner here!!!!
It our way of "Thanking You" for your support of the Chester Weather Center!!!
---
For Current California Fire Info, Click Here!
There are no active watches, warnings or advisories for zone CAZ068.
For Multiple Area Watches, Warnings and Advisories issued by the NWS Sacramento,
Click Here
.
For Multiple Area Watches, Warnings or Advisories for California,
Click Here
.
Updated:

@
Summary / Temperature
Wind
Rain/Melted Snow
Cloud Level

Dry





53.6°F





Feels like:




54°F




Temp rate:


-3.9°F


24-hrs ago:


54.8°F


24-hr diff:


-1.2°F

Temp:
Today
Yesterday
High:

76.8°F


1:42pm
72.7°F
4:54pm
Low:

43.3°F


7:41am
52.8°F
11:54pm
NWS:
High
Low
Normal:
66.2°F
33.8°F
Record:
89.6°F
21.2°F
Year:
1997
1986

SSE




0.0




Gust:

0.0

0

Bft -

Calm

60-Min Avg:
Calm
120-Min Avg:
Calm
Max Gust:

8.0 mph

3:50pm

Month:
18.0 mph Sep 17

Today:

0.00 in

Yesterday:

0.00 in

Last
Rain:
8/6/2014
2:45 AM
September:

0.00 in

Last 7 Days:
0.00 in
Rain Season:1

1.12 in

Rain Days:
54 in 2014
46 days since last rain.

Barometer ( inHg)
Humidity/Dew Point
Moon

Barometer:

29.760 inHg

1-Hr Trend:

Falling slowly

3-Hr Trend:
Falling
High:

29.906

| Low:

29.743

Humidity:

51

%
Humidex:

50.7°F

Dew Point:

35.9°F

Wetbulb:

45.9°F

Waning Crescent
1%
Illuminated

UV Forecast
Last Hour Difference

23 Sep 2014

High

7.4
24 Sep 2014

High

7.1
25 Sep 2014

High

6.2

Temperature: -3.9
Humidity: 0
Barometer: -0.021

Wind Chill
Heating Degree Days
Sun

Current:

53.6°F

Today:

43.3°F

at 7:41am

Yesterday:
52.8°F
Last Week:
49.9°F
Record:
-9.0°F 13-Jan-2013

Today:
11.8
September:
68.4
2014 to Date:
3140.5
Cooling Degree Days
2014 to Date:
252.5

Daylight:
12:08
:53 Min

Almanac
Snow3
Station All Time Records
Fire Risk

| | |
| --- | --- |
| Sunrise: | 6:53am |
| Sunset: | 7:01pm |
| Moonrise: | 6:21am |
| Moonset: | 6:07pm |
| Full Moon: | 9 September 2014 |
| New Moon: | 06:14 UTC 24 September 2014 |
| Current: | Moon age: 28 days,14 hours,54 minutes,1% |

Today:
0.00 in
Yesterday:
0.00 in
September:
0.00 in
Season Total:2
0.00 in
Snow Depth:
0.00 in
0 snow day in September
0 snow day in all 2014.
Outside Now
Air Density:
1.228 kg/m3
Cloud Height:

8582 ft

HIGHS:
LOWS:
99.3°F
01-Jul-2014
-9.0°F
13-Jan-2013
Day Time Records
81.1 F on: Jul 03 2013
13.1F on: Jan 13 2013
Night Time Records
72.5F on: Jul 11 2014
1.6F on: Jan 13 2013
ICN:1 ISS:Ok CON:4.2 RCP:98%

Chandler Burning Index
Currently:
16.0 at 11:15 PM

1 Rain season: July 1st to June 30th. 2 Snow season July 1st to June 30th. 3 Snow manually measured

NWS Weather Forecast - Overnight's and Tuesday's Outlook
Overnight


Mostly
Clear
Lo

45 °F

NWS forecast: Mostly clear, with a low around 45. Southwest wind 3 to 6 mph.
Local station forecast:

Mostly cloudy and cooler. precipitation likely. windy with possible wind shift to the w, nw, or n.

Tuesday


Mostly
Sunny
Hi

77 °F

NWS forecast: Mostly sunny, with a high near 77. Light and variable wind becoming south 11 to 16 mph in the morning. Winds could gust as high as 26 mph.
NWS Short Term Weather Forecast
Tuesday


Mostly
Sunny
Hi

77 °F

Tuesday
Night

Mostly
Clear
Lo

45 °F

Wednesday


Mostly
Sunny
Hi

76 °F

Wednesday
Night

Chance
Rain
Lo

42 °F

Thursday


Rain
Likely
Hi

61 °F

Thursday
Night

Chance
Showers
Lo

32 °F

Friday


Chance
Showers
Hi

66 °F

Friday
Night

Chance
Showers
Lo

36 °F
Chester, CA Forecast en Español
NWS Hourly Weather Graph For Chester, CA The Next 48 Hours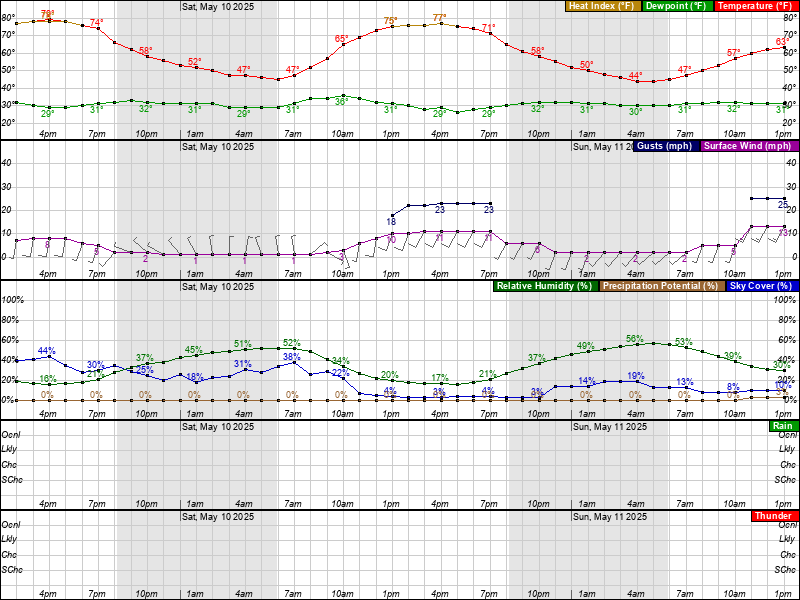 Meteogram courtesy of NOAA-National Weather Service
---
SAC - National Weather Service On Facebook
RENO - National Weather Service On Facebook


Please Donate to help maintain the operation of this Weather Station!
This weather site is a hobby and involves a considerable expenditure of time and money. Your contribution will help continue operation and maintenance of this weather station! You can use the donate button below to make a secure donation with PayPal. No amount is too small. Donations can also be made securely using any of the major credit cards.
If you find the Chester/Lake Almanor Weather Website useful to you, please consider making a small donation to help offset the routine expenses of operation of this website.
Thanks for your kind support!
---
Today's Weather Story
Low pressure system in the eastern Pacific will bring cooler, wet weather to Interior Northern California beyond midweek. Ahead of the storm, breezy conditions and low humidity Tuesday afternoon into Wednesday evening will increase the potential for fires to develop and spread rapidly. Precipitation potential for Interior Northern California increases in the Coastal mountains Wednesday, spreading over much of the forecast area into Thursday. Scattered showers and mountain thunderstorms possible Friday.
During the autumn (autumnal) and spring (vernal) equinoxes, the sun's rays are directly over the equator. Equinox means "equal night" and day and night are about equal all over the world. Due to the tilt of the earth's axis, the sun's rays are more directly over the Southern Hemisphere in the autumn (fall) and winter seasons, and directly over the Tropic of Capricorn at the time of the Winter Solstice, which is December 21st at 3:03 PM PST this year. Because Sacramento, CA lies about 38 degrees north of the equator, September 25th and 26th are actually closest to equal days/equal nights in Sacramento.
---
Useful Weather Links
Area Forecast Discussion
California State Weather Data
California WeatherShare Temperatures
California Hourly Weather Roundup
NWS Mesonet Observations
Drought Information Resources
Northern California Climate Summaries
NOAA's El Niño Portal
---
National Outlook
Click Here for-----> NOAA Watch - U.S. Daily Briefing
Click Here for-----> NOAA/NWS Storm Prediction Center
Click Here for-----> NOAA Watch - Headlines
Click Here for-----> NOAA - Daily Weather Maps
Flash flood threat continues across parts of New Mexico and Texas
Tropical moisture from the remnants of Tropical Storm Odile will continue to bring a threat of flash flooding on Monday across parts of southeastern New Mexico and southwest Texas. Rainfall rates of one inch per hour or more are possible in some locations. Flash Flood Watches and Warnings are in effect across the region.
The heavy rainfall over the southern Rockies--largely fueled by the remnant moisture from long-since spun-down tropical cyclone Odile--is expected to slowly subside as upper level energy moving through the northern Plains lures its moisture piecemeal to the northeast into the central Plains, causing thunderstorms with periods of heavy rain tonight and Tuesday night.
A vigorous autumnal storm bears down on the Pacific Northwest late Tuesday into Wednesday, bringing an end to the Pacific Northwest's sunny conditions and breeze conditions on Tuesday in advance of its cold front. Showers and thunderstorms with heavy rainfall will surge inland Tuesday night into Wednesday morning before slowly subsiding thereafter. The highest winds from the system should remain offshore the Pacific Northwest and along the coast of western British Columbia and Vancouver Island.
Florida and the immediate southeast coast will be wet as a weak wave of low pressure and its attendant coastal trough focuses thunderstorms with potentially heavy rainfall to the east of a bundle of upper level energy sliding into Georgia and the Carolinas.
Elsewhere, the Great Lakes, Ohio River valley, Northeast, and Mid-Atlantic states will be seasonably cool under the aegis of strong high pressure with crisp mornings -- freezing temperatures are expected in New England -- and cool to mild afternoons expected through Wednesday. High sea level pressure records for the month of September could be tied or broken across portions of New England on Wednesday morning.
Short Range Forecast Graphic available Here.
NOTE: The HPC National Forecast Map above, provides an overview of today's national weather with an emphasis on certain hazardous and significant weather. It summarizes forecasts from several NCEP Service Centers including the Storm Prediction Center (for severe thunderstorm and tornado outlooks), the National Hurricane Center (for tropical storm and hurricane forecasts), and the Hydrometeorological Prediction Center (for information concerning heavy rainfall, flooding, winter weather, and general weather). With an overlaid frontal forecast, this display serves as a great overview of the weather for the current day! The National Forecast Map is prepared twice daily at the Hydrometeorological Prediction Center.
U.S. Severe Weather Alerts Map
NWS Weather And Hazards Data Viewer
---
---
Weather History for September 22
1890

- A severe hailstorm struck Strawberry, AZ. Fives days after the storm hail still lay in drifts 12 to 18 inches deep. (The Weather Channel)


1913

- Des Moines, IA, experienced their earliest freeze of record. (The Weather Channel)


1961

- Hurricane Esther made a near complete circle south of Cape Cod. The hurricane then passed over Cape Cod and hit Maine. Its energy was largely spent over the North Atlantic Ocean, however, heavy rains over Maine resulted in widespread local flooding of cellars, low roads, and underpasses. (David Ludlum)


1983

- Forty-one cities reported record cold temperatures during the morning. Houston, TX, hit 50 degrees, and Williston ND plunged to 19 degrees. (The Weather Channel)


1987

- Hurricane Emily, the first hurricane to roam the Carribean in nearly six years, made landfall over the Dominican Republic late in the day, packing 125 mph winds. Emily killed three persons and caused thirty million dollars damage. A record high of 92 degrees at Miami FL was their fifth in a row. (Storm Data) (The National Weather Summary)


1988

- An early morning thunderstorm produced baseball size hail at Plainview, in Hale County TX. Late in the evening more thunderstorms in the Southern High Plains Region produced wind gusts to 75 mph at Plainview TX and Crosby TX. (Storm Data) (The National Weather Summary)


1989

- Hurricane Hugo quickly lost strength over South Carolina, but still was a tropical storm as it crossed into North Carolina, just west of Charlotte, at about 7 AM. Winds around Charlotte reached 69 mph, with gusts to 99 mph. Eighty percent of the power was knocked out to Charlotte and Mecklenburg County. Property damage in North Carolina was 210 million dollars, and damage to crops was 97 million dollars. The strongest storm surge occurred along the southern coast shortly after midnight, reaching nine feet above sea level at ocean Isle and Sunset Beach. Hugo killed one person and injured fifteen others in North Carolina. Strong northwesterly winds ushered unseasonably cold air into the north central U.S., in time for the official start of autumn, at 8" 20 PM (CDT). Squalls produced light snow in northern Wisconsin. Winds in Wisconsin gusted to 52 mph at Rhinelander. (Storm Data) (The Nati


2005

- For the first time in the historical record, two hurricanes reached category-5 intensity in the Gulf of Mexico in a single season as Hurricane Rita intensified before making landfall (Katrina and Rita).


Information courtesy of weatherforyou.com
---
Star Gazers 1438 - Sept 22-28, 2014
"Season Without Giants Or Time Of The Quiet Sky"
For more on the Sun, Moon and the Stars, Click Here!
---
---
News of the Day
Click Here for Google California News
Click Here for More California News