For Multiple Area Watches, Warnings and Advisories issued by the NWS Sacramento,
Click Here
.
For Multiple Area Watches, Warnings or Advisories for California,
Click Here
.
Updated:

@
Summary / Temperature
Wind
Rain/Melted Snow
Cloud Level

Dry





49.5°F





Feels like:




50°F




Temp rate:


+7.2°F


24-hrs ago:


50.2°F


24-hr diff:


-0.7°F

Temp:
Today
Yesterday
High:

49.5°F


1:03pm
52.2°F
3:30pm
Low:

26.4°F


5:20am
27.2°F
6:29am
NWS:
High
Low
Normal:
66.2°F
33.8°F
Record:
89.6°F
21.2°F
Year:
1997
1986

SSW




0.0




Gust:

0.0

0

Bft -

Calm

60-Min Avg:
Calm
120-Min Avg:
Calm
Max Gust:

0.0 mph

11:08am

Month:
13.0 mph Feb 8

Today:

0.00 in

Yesterday:

0.00 in

Last
Rain:
2/4/2016
12:41 PM
February:

39.59 in

Last 7 Days:
0.00 in
Rain Season:1

2.12 in

Rain Days:
18 in 2016
8 days since last rain.

Barometer ( inHg)
Humidity/Dew Point
Moon

Barometer:

30.186 inHg

1-Hr Trend:

Falling slowly

3-Hr Trend:
Falling rapidly
High:

30.315

| Low:

30.146

Humidity:

57

%
Humidex:

46.4°F

Dew Point:

34.9°F

Wetbulb:

43.4°F

Waxing Crescent
34%
Illuminated

UV Forecast
Last Hour Difference

13 Feb 2016

Low

2.5
14 Feb 2016

Low

2.9
15 Feb 2016

Medium

3.5

Temperature: +7.2
Humidity: -12
Barometer: -0.067

Wind Chill
Heating Degree Days
Sun

Current:

49.5°F

Today:

26.4°F

at 5:20am

Yesterday:
27.2°F
Last Week:
30.8°F
Record:
-9.0°F 13-Jan-2013

Today:
19.8
February:
386.7
2016 to Date:
1384.6
Cooling Degree Days
2016 to Date:
0.0

Daylight:
10:35
:02 Min

Almanac
Snow3
Station All Time Records
Fire Risk

| | |
| --- | --- |
| Sunrise: | 7:01am |
| Sunset: | 5:36pm |
| Moonrise: | 10:13am |
| Moonset: | 10:41pm |
| Full Moon: | 22 February 2016 |
| New Moon: | 01:55 UTC 9 March 2016 |
| Current: | Moon age: 5 days,19 hours,52 minutes,34% |

Today:
0.00 in
Yesterday:
0.00 in
February:
0.00 in
Season Total:2
0.00 in
Snow Depth:
2.00 in
0 snow day in February
0 snow day in all 2016.
Outside Now
Air Density:
1.256 kg/m3
Cloud Height:

7875 ft

HIGHS:
LOWS:
100.8°F
30-Jul-2015
-9.0°F
13-Jan-2013
Day Time Records
82.8 F on: Jun 25 2015
13.1F on: Jan 13 2013
Night Time Records
72.5F on: Jul 11 2014
1.6F on: Jan 13 2013
ICN:0 ISS:Ok CON:4.2 RCP:98%

Chandler Burning Index
Currently:
10.1 at 1:05 PM

1 Rain season: July 1st to June 30th. 2 Snow season July 1st to June 30th. 3 Snow manually measured

NWS Weather Forecast - This Afternoon's and Tonight's Outlook
This
Afternoon

Mostly Sunny

Hi

59 °F

NWS forecast: Mostly sunny, with a high near 59. Calm wind.
Local station forecast:

Increasing clouds and warmer. precipitation possible within 12 to 24 hrs. windy.

Tonight


Partly Cloudy

Lo

30 °F

NWS forecast: Partly cloudy, with a low around 30. Light north wind.
NWS Short Term Weather Forecast
Tonight


Partly Cloudy

Lo

30 °F

Sunday


Partly Sunny

Hi

60 °F

Sunday
Night

Partly Cloudy

Lo

30 °F

Washington's
Birthday

Sunny

Hi

63 °F

Monday
Night

Mostly Clear

Lo

29 °F

Tuesday


Mostly Sunny

Hi

64 °F

Tuesday
Night

Mostly Cloudy

Lo

32 °F

Wednesday


Chance Rain

Hi

54 °F
Chester, CA Forecast en Español
NWS Hourly Weather Graph For Chester, CA The Next 48 Hours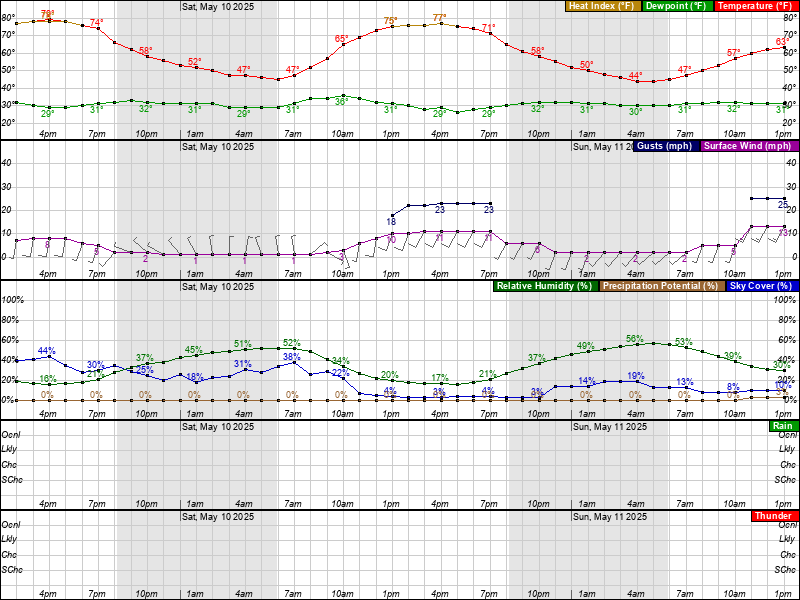 Meteogram courtesy of NOAA-National Weather Service
---
SAC - National Weather Service On Facebook
RENO - National Weather Service On Facebook


Please Donate to help maintain the operation of this Weather Station!
This weather site is a hobby and involves a considerable expenditure of time and money. Your contribution will help continue operation and maintenance of this weather station! You can use the donate button below to make a secure donation with PayPal. No amount is too small. Donations can also be made securely using any of the major credit cards.
If you find the Chester/Lake Almanor Weather Website useful to you, please consider making a small donation to help offset the routine expenses of operation of this website.
Thanks for your kind support!
---
Today's Weather Story
Very warm temperatures are expected this holiday weekend, peaking Monday through Tuesday. Record high temperatures will be possible during this warm stretch.
Here's an early look at the precipitation for next week's weather system. Certainly not a gullywasher, but should help to start building the mountain snowpack again.
On Monday, we celebrate the birthday of George Washington, our first president, and The Father Our Country! The sculptures of George Washington, Thomas Jefferson, Theodore Roosevelt and Abraham Lincoln (left to right) on Mt. Rushmore represent the first 130 years of the history of the United States. The official holiday name is Washington's Birthday, even though some refer to it as Presidents' Day. The holiday was originally celebrated on February 22nd. In 1971, the federal holiday shifted to the third Monday in February by the Uniform Monday Holiday Act. Thus, the holiday falls between February 15th and the 21st. An early draft of the Uniform Monday Holiday Act would have renamed the holiday to "Presidents' Day" to honor the birthdays of both Washington and Lincoln, which explains why the chosen date falls between the two. However, the proposal failed in committee and the bill as voted on and signed into law on June 28, 1968, kept the name Washington's Birthday. Several U.S. states officially refer to the holiday as "Presidents' Day."
---
Useful Weather Links
Area Forecast Discussion
California State Weather Data
California WeatherShare Temperatures
California Hourly Weather Roundup
NWS Mesonet Observations
Precipitation Information Resources
Drought Information Resources
Northern California Climate Summaries
NOAA's El Niño Portal
---
National Outlook
Click Here for-----> NOAA Watch - U.S. Daily Briefing
Click Here for-----> NOAA/NWS Storm Prediction Center
Click Here for-----> NOAA Watch - Headlines
Click Here for-----> NOAA - Daily Weather Maps
Severe storms possible in Midwest
Heavy Lake Effect Snow and Bitterly Cold Temperatures
A bitterly cold airmass will settle over much of the central and eastern U.S over the next several days. Well below normal temperatures and cold wind chills will be common. In addition, heavy lake effect snow will be possible especially downwind of Lakes Erie and Ontario, where up to one foot of additional snow is forecast by Sunday morning.
...The coldest air mass of the season expected to impact Eastern U.S. this weekend...
...Mild and dry weather expected for the western states...
The large-scale weather pattern over the continental U.S. through Sunday will be featured with a large scale ridge over the Intermountain West and a trough over the Eastern U.S. The amplified flow will result in mild and mainly dry weather west of the Rockies, and periods of rain for the Pacific Northwest. Warm weather is forecast to continue for the Desert Southwest and California with little in the way of precipitation.
Arctic air will be the big story across the northeastern U.S. through the weekend. An eddy of the polar vortex over Quebec, along with a reinforcing cold front, is expected to bring the coldest weather of this winter season from the Great Lakes to New England. Wind chill warnings and lake effect snow warnings are in effect for these areas, with wind chill readings dropping below -30 degrees by Saturday night. Actual temperatures will also be frigid with highs in the single digits and teens, and subzero lows across much of upstate New York and New England. It will also be quite cold from the Ohio Valley to the Mid-Atlantic region.
Short Range Forecast Graphic available Here.
NOTE: The HPC National Forecast Map above, provides an overview of today's national weather with an emphasis on certain hazardous and significant weather. It summarizes forecasts from several NCEP Service Centers including the Storm Prediction Center (for severe thunderstorm and tornado outlooks), the National Hurricane Center (for tropical storm and hurricane forecasts), and the Hydrometeorological Prediction Center (for information concerning heavy rainfall, flooding, winter weather, and general weather). With an overlaid frontal forecast, this display serves as a great overview of the weather for the current day! The National Forecast Map is prepared twice daily at the Hydrometeorological Prediction Center.
U.S. Severe Weather Alerts Map
NWS Weather And Hazards Data Viewer
---
---
Weather History for February 13
---
Star Gazers 1605 - February 1-7th, 2016
"Jupiter and the High Flyin' Lion"
For more on the Sun, Moon and the Stars, Click Here!
---
---
News of the Day
Click Here for Google California News
Click Here for More California News