There are no active watches, warnings or advisories for zone CAZ068.
For Multiple Area Watches, Warnings and Advisories issued by the NWS Sacramento,
Click Here
.
For Multiple Area Watches, Warnings or Advisories for California,
Click Here
.
Updated:

@
Summary / Temperature
Wind
Rain/Melted Snow
Cloud Level

Dry





30.0°F





Feels like:




30°F




Temp rate:


-4.6°F


24-hrs ago:


35.8°F


24-hr diff:


-5.8°F

Temp:
Today
Yesterday
High:

48.8°F


1:01pm
43.2°F
1:23pm
Low:

27.9°F


6:38am
29.0°F
11:44pm
NWS:
High
Low
Normal:
66.2°F
33.8°F
Record:
89.6°F
21.2°F
Year:
1997
1986

NNE




0.0




Gust:

0.0

0

Bft -

Calm

60-Min Avg:
Calm
120-Min Avg:
Calm
Max Gust:

12.0 mph

2:23am

Month:
12.0 mph Mar 1

Today:

0.00 in

Yesterday:

0.00 in

Last
Rain:
2/27/2015
9:42 PM
March:

0.00 in

Last 7 Days:
0.01 in
Rain Season:1

14.95 in

Rain Days:
10 in 2015
2 days since last rain.

Barometer ( inHg)
Humidity/Dew Point
Moon

Barometer:

29.852 inHg

1-Hr Trend:

Steady

3-Hr Trend:
Steady
High:

29.966

| Low:

29.801

Humidity:

69

%
Humidex:

23.9°F

Dew Point:

21.1°F

Wetbulb:

27.2°F

Waxing Gibbous
89%
Illuminated

UV Forecast
Last Hour Difference

2 Mar 2015

Medium

3.1
3 Mar 2015

Medium

3.8
4 Mar 2015

Medium

3.9

Temperature: -4.6
Humidity: +10
Barometer: -0.003

Wind Chill
Heating Degree Days
Sun

Current:

30.0°F

Today:

27.9°F

at 6:38am

Yesterday:
29.0°F
Last Week:
20.1°F
Record:
-9.0°F 13-Jan-2013

Today:
27.8
March:
27.8
2015 to Date:
1621.9
Cooling Degree Days
2015 to Date:
0.0

Daylight:
11:19
:06 Min

Almanac
Snow3
Station All Time Records
Fire Risk

| | |
| --- | --- |
| Sunrise: | 6:37am |
| Sunset: | 5:56pm |
| Moonrise: | 3:36pm |
| Moonset: | 4:44am |
| Full Moon: | 5 March 2015 |
| New Moon: | 09:37 UTC 20 March 2015 |
| Current: | Moon age: 11 days,14 hours,21 minutes,89% |

Today:
0.00 in
Yesterday:
0.00 in
March:
0.00 in
Season Total:2
0.00 in
Snow Depth:
0.00 in
0 snow day in March
0 snow day in all 2015.
Outside Now
Air Density:
1.293 kg/m3
Cloud Height:

6577 ft

HIGHS:
LOWS:
99.3°F
01-Jul-2014
-9.0°F
13-Jan-2013
Day Time Records
81.1 F on: Jul 03 2013
13.1F on: Jan 13 2013
Night Time Records
72.5F on: Jul 11 2014
1.6F on: Jan 13 2013
ICN:1 ISS:Station 2,4 Low CON:106.2 RCP:98%

Chandler Burning Index
Currently:
2.0 at 8:55 PM

1 Rain season: July 1st to June 30th. 2 Snow season July 1st to June 30th. 3 Snow manually measured

NWS Weather Forecast - Tonight's and Monday's Outlook
Tonight


Partly
Cloudy
Lo

22 °F

NWS forecast: Partly cloudy, with a low around 22. Light east wind.
Local station forecast:

Partly cloudy and cooler.

Monday


Chance
Rain/Snow
Hi

49 °F

NWS forecast: A chance of snow showers before 10am, then a chance of rain and snow showers. Partly sunny, with a high near 49. Calm wind becoming west southwest 5 to 8 mph in the morning. Chance of precipitation is 30%. Little or no snow accumulation expected.
NWS Short Term Weather Forecast
Monday


Chance
Rain/Snow
Hi

49 °F

Monday
Night

Slight Chc
Showers
Lo

22 °F

Tuesday


Mostly
Sunny
Hi

53 °F

Tuesday
Night

Mostly
Clear
Lo

20 °F

Wednesday


Sunny

Hi

56 °F

Wednesday
Night

Mostly
Clear
Lo

22 °F

Thursday


Sunny

Hi

58 °F

Thursday
Night

Mostly
Clear
Lo

25 °F
Chester, CA Forecast en Español
NWS Hourly Weather Graph For Chester, CA The Next 48 Hours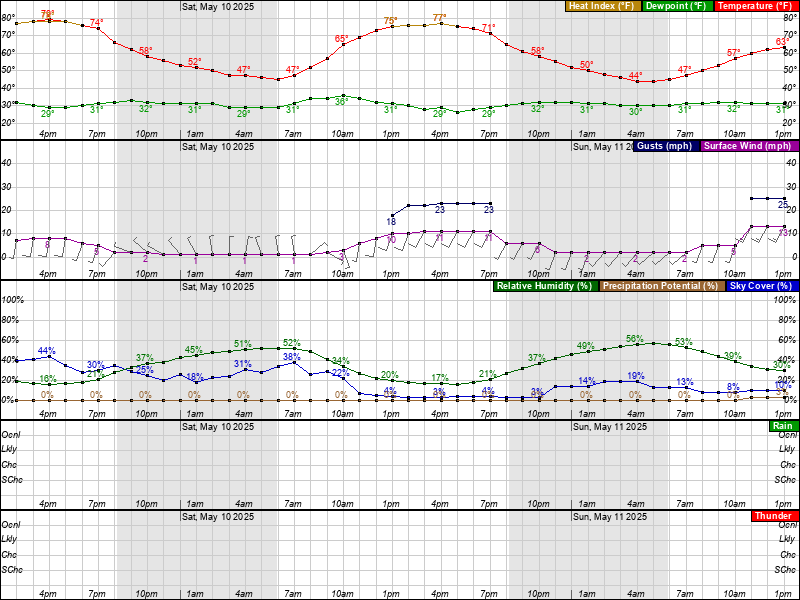 Meteogram courtesy of NOAA-National Weather Service
---
SAC - National Weather Service On Facebook
RENO - National Weather Service On Facebook


Please Donate to help maintain the operation of this Weather Station!
This weather site is a hobby and involves a considerable expenditure of time and money. Your contribution will help continue operation and maintenance of this weather station! You can use the donate button below to make a secure donation with PayPal. No amount is too small. Donations can also be made securely using any of the major credit cards.
If you find the Chester/Lake Almanor Weather Website useful to you, please consider making a small donation to help offset the routine expenses of operation of this website.
Thanks for your kind support!
---
Today's Weather Story
Fairly dry today with maybe some isolated lingering snow showers right along the Sierra Crest this morning. North winds could be breezy along the western valley this morning then lessen by early evening. A weak, secondary wave of precipitation should track southward across CA on Monday. Not much moisture expected so snow amounts will be light (1-2 inches). Dry and Warmer Tuesday onward.
After a brief period of dry weather Sunday, another system will move through Monday into early Tuesday. Precipitation amounts with this system will be light with little to no precipitation in the valley and up to a quarter inch in the mountains. A few inches of snow are possible down to 4000-5000 feet. Afternoon thunderstorm will again be possible with lightning and small hail. Stay tuned for the latest details.
March 1 marks the 1st day of meteorological spring! What's the difference between that & astronomical spring?
---
Useful Weather Links
Area Forecast Discussion
California State Weather Data
California WeatherShare Temperatures
California Hourly Weather Roundup
NWS Mesonet Observations
Precipitation Information Resources
Drought Information Resources
Northern California Climate Summaries
NOAA's El Niño Portal
---
National Outlook
Click Here for-----> NOAA Watch - U.S. Daily Briefing
Click Here for-----> NOAA/NWS Storm Prediction Center
Click Here for-----> NOAA Watch - Headlines
Click Here for-----> NOAA - Daily Weather Maps
Active weather pattern Sunday brings threat of wintry weather to several parts of U.S.
A few areas of active weather are expected on Sunday. The first will be in the Southwest, where locally heavy rain and mountain snow are possible from California to the Rockies. Farther east, wintry weather is possible over a large portion of the country. Numerous Winter Weather Advisories and a few Winter Storm Warnings are in effect from the southern Plains to New England.
...Heavy snow possible for parts of the Central Rockies and parts of the Great Basin...
...Snow possible from the Ohio Valley to the Northeast...
...Freezing rain possible from parts of the Southern Plains to parts of the Ohio Valley and parts of the Carolinas/Mid-Atlantic...
...Heavy rain possible for parts of the Southwest...
Upper-level energy over the Upper Midwest will eastward off the Northeast Coast by Monday evening. The energy will induce a front extending from the Northern Appalachians to the Lower Mississippi Valley that will move eastward off the East Coast late Sunday night to Monday afternoon. Moisture from the Gulf of Mexico will move northward to the Middle Mississippi Valley/Ohio Valley overrunning cold air at the surface producing snow from parts of the Central Plains to Ohio Valley/Lower Great Lakes that will move eastward to the Northeast by Sunday evening. Snow will linger over parts of the Northern Appalachians/New England to parts of the Central Appalachians on Monday morning. Rain and freezing rain will develop over parts of the Southern Plains into the Ohio Valley through Sunday morning. In addition, another area of rain/freezing rain will develop over parts of the Carolinas and move northward into the Mid-Atlantic through Sunday evening. Another area of rain/freezing rain will develop over parts of the Southern Plains on Monday morning.
In the meantime, rain will develop over parts of the Southern Plains that will expand eastward into the Central Gulf Coast by Monday morning and into the Southeast by Monday evening. Additionally, showers and thunderstorms will develop over parts of the Western Gulf Coast/Lower Mississippi Valley on Sunday morning that will end by Monday morning.
Meanwhile, upper-level closed low over Southern California will slowly begin to move eastward into the Southwest by Monday evening as additional upper-level energy moves southward along the West Coast on Sunday evening into Monday. Snow will develop over parts of East-Central California to the Central Rockies through Monday. Lower elevation rain will develop over parts of Southern California into the Southwest by Sunday evening. The rain will move into the Southern Rockies/Southwest while increasing in intensity to light to moderate rain on Monday.
Elsewhere, a front over West-Central Canada will move southward to the Northern/Central Rockies to the Northern Plains on Monday. The boundary will aid in producing snow from the Northern Intermountain Region/Rockies into the Northern Plains by Monday evening.
Short Range Forecast Graphic available Here.
NOTE: The HPC National Forecast Map above, provides an overview of today's national weather with an emphasis on certain hazardous and significant weather. It summarizes forecasts from several NCEP Service Centers including the Storm Prediction Center (for severe thunderstorm and tornado outlooks), the National Hurricane Center (for tropical storm and hurricane forecasts), and the Hydrometeorological Prediction Center (for information concerning heavy rainfall, flooding, winter weather, and general weather). With an overlaid frontal forecast, this display serves as a great overview of the weather for the current day! The National Forecast Map is prepared twice daily at the Hydrometeorological Prediction Center.
U.S. Severe Weather Alerts Map
NWS Weather And Hazards Data Viewer
---
---
Weather History for March 1
1910

- The deadliest avalanche of record in the U.S. thundered down the mountains near Wellington Station WA sweeping three huge locomotive train engines and some passenger cars, snowbound on the grade leading to Stevens Pass, over the side and into a canyon, and burying them under tons of snow. The avalanche claimed the lives of more than 100 people. The station house at Wellington was also swept away. (The Weather Channel)


1914

- High winds and heavy snow crippled New Jersey and New York State. Two feet of snow were reported at Ashbury Park, and at New York City the barometric pressure dropped to a record 28.38 inches. The storm caused complete disruption of electric power in New Jersey. (David Ludlum)


1980

- Norfolk, VA, received 13.7 inches of snow to push their season total to a record 41.9 inches exceeding their previous record by more than four inches. (David Ludlum)


1980

- An unusually large Florida tornado, 500 yards in width at times, killed one person and caused six million dollars damage near Fort Lauderdale. (The Weather Channel)


1983

- A ferocious storm battered the Pacific coast. The storm produced heavy rain and gale force winds resulting in flooding and beach erosion, and in the mountains produced up to seven feet of snow in five days. (The Weather Channel)


1987

- A storm crossing the Great Lakes Region produced heavy snow and gale force winds from Wisconsin to northern New England, with eight inches of snow reported at Ironwood MI. (The National Weather Summary)


1988

- Thunderstorms produced large hail and damaging winds in north central Texas. Baseball size hail was reported at Lake Kickapoo. Hail fell continuously for thirty minutes in the Iowa Park area of Wichita Falls. (The National Weather Summary) (Storm Data)


1989

- March came in like a lion, with snow and high winds, in the northwestern U.S. Winds gusted to 86 mph in the Rosario Strait of western Washington State. (The National Weather Summary) (Storm Data)


1990

- A series of low pressure systems moving out of the Gulf of Alaska spread high winds and heavy snow across western Alaska. Winds in the Anchorage area gusted to 69 mph at Glen Alps, and Talkeetna was buried under three feet of snow in two days. Valdez received 21.4 inches of snow, raising their total for the winter season to 482.4 inches. (The National Weather Summary) (Storm Data)


2006

- Dallas/Forth Worth Airport breaks a 107-year-old North Texas temperature record after reaching 93 degrees. Mineral Wells reached 97, Wichita Falls 96 and Fort Worth Meacham Airport 90.


2011

- Snowfall across Idaho broke numerous accumulation records. Pierce received 15 inches, Powell 14.5 inches, Potlatch 12 inches and Kellogg and Plummer 7 inches. The same storm created high winds across the Pacific Northwest. A weather station at 10,000 feet on Mount Ranier measures a wind gust of 137 MPH with a sustained 1-minute wind reading of 112 MPH.


Information courtesy of weatherforyou.com
---
Star Gazers 1507 - Feb 16 - 27, 2015
"The God of Love Vs The God Of War"
For more on the Sun, Moon and the Stars, Click Here!
---
---
News of the Day
Click Here for Google California News
Click Here for More California News