There are no active watches, warnings or advisories for zone CAZ068.
For Multiple Area Watches, Warnings and Advisories issued by the NWS Sacramento,
Click Here
.
For Multiple Area Watches, Warnings or Advisories for California,
Click Here
.
Updated:

@
Summary / Temperature
Wind
Rain/Melted Snow
Cloud Level

Dry





38.3°F





Feels like:




38°F




Temp rate:


-2.5°F


24-hrs ago:


36.2°F


24-hr diff:


2.1°F

Temp:
Today
Yesterday
High:

56.2°F


12:42pm
54.8°F
12:54pm
Low:

29.3°F


4:18am
29.7°F
5:13am
NWS:
High
Low
Normal:
66.2°F
33.8°F
Record:
89.6°F
21.2°F
Year:
1997
1986

NNW




0.0




Gust:

0.0

0

Bft -

Calm

60-Min Avg:
Calm
120-Min Avg:
Calm
Max Gust:

13.0 mph

10:10am

Month:
14.0 mph Jan 21

Today:

0.00 in

Yesterday:

0.00 in

Last
Rain:
1/18/2015
5:28 PM
January:

0.11 in

Last 7 Days:
0.00 in
Rain Season:1

11.93 in

Rain Days:
3 in 2015
11 days since last rain.

Barometer ( inHg)
Humidity/Dew Point
Moon

Barometer:

29.945 inHg

1-Hr Trend:

Steady

3-Hr Trend:
Steady
High:

30.015

| Low:

29.833

Humidity:

39

%
Humidex:

31.4°F

Dew Point:

15.5°F

Wetbulb:

31.2°F

Waxing Gibbous
88%
Illuminated

UV Forecast
Last Hour Difference

31 Jan 2015

Low

2.2
1 Feb 2015

Low

2.2
2 Feb 2015

Low

2.3

Temperature: -2.5
Humidity: + 5
Barometer: +0.018

Wind Chill
Heating Degree Days
Sun

Current:

38.3°F

Today:

29.3°F

at 4:18am

Yesterday:
29.7°F
Last Week:
32.9°F
Record:
-9.0°F 13-Jan-2013

Today:
27.2
January:
867.9
2015 to Date:
867.9
Cooling Degree Days
2015 to Date:
0.0

Daylight:
10:05
:03 Min

Almanac
Snow3
Station All Time Records
Fire Risk

| | |
| --- | --- |
| Sunrise: | 7:15am |
| Sunset: | 5:20pm |
| Moonrise: | 2:57pm |
| Moonset: | 4:40am |
| Full Moon: | 3 February 2015 |
| New Moon: | 23:48 UTC 18 February 2015 |
| Current: | Moon age: 11 days,9 hours,16 minutes,88% |

Today:
0.00 in
Yesterday:
0.00 in
January:
0.00 in
Season Total:2
0.00 in
Snow Depth:
0.00 in
0 snow day in January
0 snow day in all 2015.
Outside Now
Air Density:
1.275 kg/m3
Cloud Height:

9755 ft

HIGHS:
LOWS:
99.3°F
01-Jul-2014
-9.0°F
13-Jan-2013
Day Time Records
81.1 F on: Jul 03 2013
13.1F on: Jan 13 2013
Night Time Records
72.5F on: Jul 11 2014
1.6F on: Jan 13 2013
ICN:1 ISS:Ok CON:4.2 RCP:98%

Chandler Burning Index
Currently:
30.5 at 10:55 PM

1 Rain season: July 1st to June 30th. 2 Snow season July 1st to June 30th. 3 Snow manually measured

NWS Weather Forecast - Overnight's and Saturday's Outlook
Overnight


Mostly
Clear
Lo

29 °F

NWS forecast: Mostly clear, with a low around 29. Northeast wind 9 to 11 mph.
Local station forecast:

Increasing clouds with little temp. change.

Saturday


Sunny

Hi

59 °F

NWS forecast: Sunny, with a high near 59. East northeast wind around 9 mph.
NWS Short Term Weather Forecast
Saturday


Sunny

Hi

59 °F

Saturday
Night

Mostly
Clear
Lo

26 °F

Sunday


Partly
Sunny
Hi

57 °F

Sunday
Night

Mostly
Cloudy
Lo

29 °F

Monday


Slight Chc
Rain
Hi

57 °F

Monday
Night

Mostly
Cloudy
Lo

30 °F

Tuesday


Partly
Sunny
Hi

54 °F

Tuesday
Night

Slight Chc
Showers
Lo

31 °F
Chester, CA Forecast en Español
NWS Hourly Weather Graph For Chester, CA The Next 48 Hours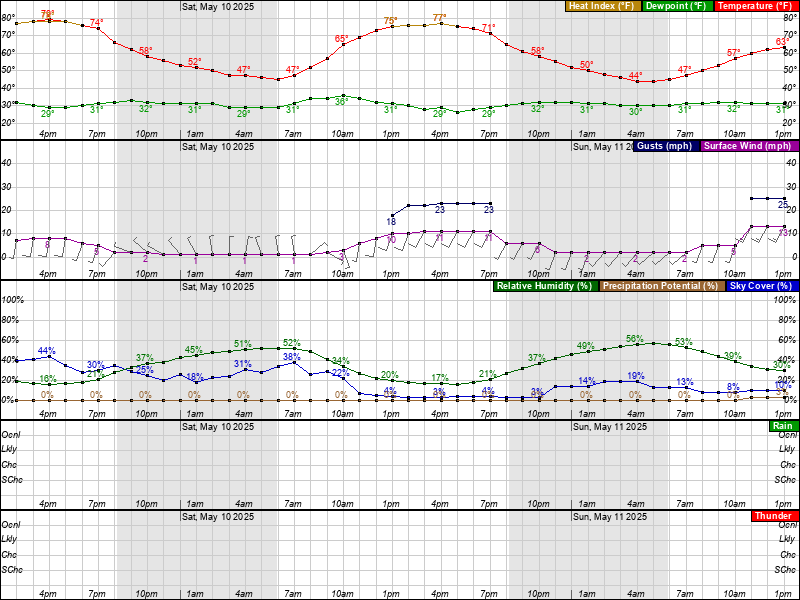 Meteogram courtesy of NOAA-National Weather Service
---
SAC - National Weather Service On Facebook
RENO - National Weather Service On Facebook


Please Donate to help maintain the operation of this Weather Station!
This weather site is a hobby and involves a considerable expenditure of time and money. Your contribution will help continue operation and maintenance of this weather station! You can use the donate button below to make a secure donation with PayPal. No amount is too small. Donations can also be made securely using any of the major credit cards.
If you find the Chester/Lake Almanor Weather Website useful to you, please consider making a small donation to help offset the routine expenses of operation of this website.
Thanks for your kind support!
---
Today's Weather Story
High pressure will bring above normal temperatures over the weekend. Some high temperature records may be set on Saturday. Sunday will be a little cooler due to some cloud cover. The system bringing the clouds may produce a little rain over the far north state Monday and early Tuesday. A change in the weather pattern looks possible at the end of next week which could bring more significant precipitation. Stay Tuned.
---
Useful Weather Links
Area Forecast Discussion
California State Weather Data
California WeatherShare Temperatures
California Hourly Weather Roundup
NWS Mesonet Observations
Precipitation Information Resources
Drought Information Resources
Northern California Climate Summaries
NOAA's El Niño Portal
---
National Outlook
Click Here for-----> NOAA Watch - U.S. Daily Briefing
Click Here for-----> NOAA/NWS Storm Prediction Center
Click Here for-----> NOAA Watch - Headlines
Click Here for-----> NOAA - Daily Weather Maps
Winter weather returns to New England, wet weather in Southwest
A fast-moving clipper system will bring snow across much of New England on Friday. The heaviest snow is expected across Maine, New Hampshire and eastern Massachusetts. Snowfall totals will be much less than what the nor'easter earlier this week brought, with less than six inches forecast for most areas. Meanwhile, wet weather will prevail across parts of the Southwest into the weekend.
***Snow for the Great Lakes and into New England***
***Much colder weather arriving to the Great Plains states***
***Developing low pressure system over the central U.S.***
A quick-moving disturbance across the Northeast U.S. is producing light to moderate snow from Pennsylvania to Maine. Once the surface low emerges over the waters of the Atlantic Ocean, intensification is forecast to occur and this will likely result in a heavier band of snow developing over Maine, New Hampshire, and eastern Massachusetts. This event will be considerably weaker than its monster predecessor a few days ago, with most locations getting less than six inches of snow. The exception will likely be over Maine, where greater snowfall amounts are possible.
After widespread high temperatures in the 70s and even low 80s over the central and southern Plains earlier this week, much cooler temperatures have arrived as a strong surface high slides down from Canada behind a cold front and expands over much of the Central U.S. to close out the work week. Highs will be closer to average for this time of year, along with gusty winds.
Conditions will become increasingly wet over the Southwest and southern Plains for the next few days while an elongated shortwave trough moves over northern Mexico and strong low-level winds advect increasing Pacific moisture to these areas. This moisture will fuel widespread moderate to locally heavy precipitation, with the greatest amounts expected for Arizona and New Mexico on Friday. Accumulating snow is expected for the higher elevations of Utah, Colorado, and New Mexico, and a mix of rain and snow for the higher elevations of Arizona. By the weekend, snow is expected to emerge over the Midwest states as the surface low develops over the central Plains, and rain farther to the south.
Short Range Forecast Graphic available Here.
NOTE: The HPC National Forecast Map above, provides an overview of today's national weather with an emphasis on certain hazardous and significant weather. It summarizes forecasts from several NCEP Service Centers including the Storm Prediction Center (for severe thunderstorm and tornado outlooks), the National Hurricane Center (for tropical storm and hurricane forecasts), and the Hydrometeorological Prediction Center (for information concerning heavy rainfall, flooding, winter weather, and general weather). With an overlaid frontal forecast, this display serves as a great overview of the weather for the current day! The National Forecast Map is prepared twice daily at the Hydrometeorological Prediction Center.
U.S. Severe Weather Alerts Map
NWS Weather And Hazards Data Viewer
---
---
Weather History for January 30
1936

- Birmingham, AL, established a single storm record and 24 hour record with 11 inches of snow. (29th-30th) (David Ludlum) (The Weather Channel)


1977

- The great "Buffalo Blizzard" finally abated after three days. The storm added a foot of new snow to 33 inches already on the ground. Winds gusting to 75 mph reduced visibilities to near zero, produced snow drifts twenty-five feet high, and kept wind chill readings 50 degrees below zero. The blizzard paralyzed the city, and caused 250 million dollars damage. (David Ludlum)


1987

- A winter storm brought more heavy snow to the North Atlantic Coast Region, with 13.6 inches reported at Hiram ME. January proved to be the snowiest of record for much of Massachusetts. Worcester MA reported an all-time monthly record of 46.8 inches of snow. (National Weather Summary)


1988

- Strong southerly winds, gusting to 53 mph at Kansas City MO, spread warm air into the central U.S. Nineteen cities reported record high temperatures for the date. Snow and strong northwest winds ushered cold arctic air into the north central states. The temperature at Cutbank plunged from 54 degrees to a morning low of 7 degrees below zero. (National Weather Summary)


1989

- The temperature at McGrath, AK, dipped to 62 degrees below zero, and Fairbanks reported a reading of 51 degrees below zero, with unofficial readings in the area as cold as 75 degrees below zero. The massive dome of bitterly cold air began to slide down western Canada toward the north central U.S. Strong southwest winds ahead of the arctic front pushed the temperature at Great Falls MT to 62 degrees, and gusted to 124 mph at Choteau MT, overturning trucks and mobile homes, and a dozen empty railroad cars. (National Weather Summary) (Storm Data)


1990

- A major winter storm produced heavy snow from Indiana to New England. It was the biggest storm in two and a half years for eastern New York State. Snowfall totals in the mountains of Maine ranged up to 20 inches at Guilford and Lovell. Other heavy snowfall totals included 17 inches at Utica NY, and 19 inches at Bethel VT, Ludlow VT, and New London NH. The storm claimed three lives in eastern New York State, and four lives in Vermont. (National Weather Summary) (Storm Data)


2005

- A significant ice storm struck parts of northern Georgia on the 30th-31st. Ice accretion was as great as 2 inches in Monroe county, located southeast of Atlanta. Power outages in the area at the height of the storm affected nearly 320,000 homes and businesses.


Information courtesy of weatherforyou.com
---
Star Gazers 1502 - Jan 12 - 18, 2015
"The Great Star And Constellation Shootout"
For more on the Sun, Moon and the Stars, Click Here!
---
---
News of the Day
Click Here for Google California News
Click Here for More California News