For Multiple Area Watches, Warnings and Advisories issued by the NWS Sacramento,
Click Here
.
For Multiple Area Watches, Warnings or Advisories for California,
Click Here
.
Updated:

@
Summary / Temperature
Wind
Rain/Melted Snow
Cloud Level

Dry





66.1°F





Feels like:




66°F




Temp rate:


-0.1°F


24-hrs ago:


49.8°F


24-hr diff:


16.3°F

Temp:
Today
Yesterday
High:

67.1°F


1:33pm
70.6°F
1:44pm
Low:

42.5°F


1:19am
36.5°F
8:11am
NWS:
High
Low
Normal:
66.2°F
33.8°F
Record:
89.6°F
21.2°F
Year:
1997
1986

NNE




0.1




Gust:

0.0

0

Bft -

Calm

60-Min Avg:
Calm
120-Min Avg:
Calm
Max Gust:

11.0 mph

11:07am

Month:
12.0 mph Oct 3

Today:

0.01 in

Storm Rain:
0.28 in
Yesterday:

0.27 in

Last
Rain:
10/4/2015
2:38 AM
October:

0.68 in

Last 7 Days:
0.67 in
Rain Season:1

3.42 in

Rain Days:
53 in 2015
3 rain days in October

Barometer ( inHg)
Humidity/Dew Point
Moon

Barometer:

29.497 inHg

1-Hr Trend:

Steady

3-Hr Trend:
Steady
High:

29.586

| Low:

29.424

Humidity:

36

%
Humidex:

64.0°F

Dew Point:

38.4°F

Wetbulb:

52.7°F

Waning Crescent
49%
Illuminated

UV Forecast
Last Hour Difference

4 Oct 2015

Medium

4.8
5 Oct 2015

Medium

5.0
6 Oct 2015

Medium

5.5

Temperature: -0.1
Humidity: + 1
Barometer: -0.005

Heat Index
Cooling Degree Days
Sun

Current:

66.1°F

Today:

67.1°F

1:33pm

Yesterday:
75.8°F
Last Week:
78.7°F
Record:
95.0°F 30-Jul-2015

Today:
0.0
October:
0.0
2015 to Date:
212.2
Heating Degree Days
2015 to Date:
3658.3

Daylight:
11:40
:56 Min

Almanac
Snow3
Station All Time Records
Fire Risk

| | |
| --- | --- |
| Sunrise: | 7:04am |
| Sunset: | 6:44pm |
| Moonrise: | 11:26pm |
| Moonset: | 1:55pm |
| Full Moon: | 28 September 2015 |
| New Moon: | 00:07 UTC 13 October 2015 |
| Current: | Moon age: 22 days,5 hours,57 minutes,49% |

Today:
0.00 in
Yesterday:
0.00 in
October:
0.00 in
Season Total:2
0.00 in
Snow Depth:
0.00 in
0 snow day in October
0 snow day in all 2015.
Outside Now
Air Density:
1.188 kg/m3
Cloud Height:

11046 ft

HIGHS:
LOWS:
100.8°F
30-Jul-2015
-9.0°F
13-Jan-2013
Day Time Records
82.8 F on: Jun 25 2015
13.1F on: Jan 13 2013
Night Time Records
72.5F on: Jul 11 2014
1.6F on: Jan 13 2013
ICN:0 ISS:Ok CON:4.2 RCP:98%

Chandler Burning Index
Currently:
43.9 at 4:35 PM

1 Rain season: July 1st to June 30th. 2 Snow season July 1st to June 30th. 3 Snow manually measured

NWS Weather Forecast - Tonight's and Monday's Outlook
Tonight


Mostly Clear

Lo

39 °F

NWS forecast: Mostly clear, with a low around 39. Northeast wind 6 to 11 mph.
Local station forecast:

Mostly cloudy and cooler. precipitation possible within 12 hours, possibly heavy at times. windy.

Monday


Mostly Sunny

Hi

74 °F

NWS forecast: Mostly sunny, with a high near 74. Light and variable wind becoming east around 5 mph.
NWS Short Term Weather Forecast
Monday


Mostly Sunny

Hi

74 °F

Monday
Night

Mostly Clear

Lo

38 °F

Tuesday


Sunny

Hi

73 °F

Tuesday
Night

Partly Cloudy

Lo

38 °F

Wednesday


Mostly Sunny

Hi

77 °F

Wednesday
Night

Partly Cloudy

Lo

40 °F

Thursday


Mostly Sunny

Hi

78 °F

Thursday
Night

Partly Cloudy

Lo

41 °F
Chester, CA Forecast en Español
NWS Hourly Weather Graph For Chester, CA The Next 48 Hours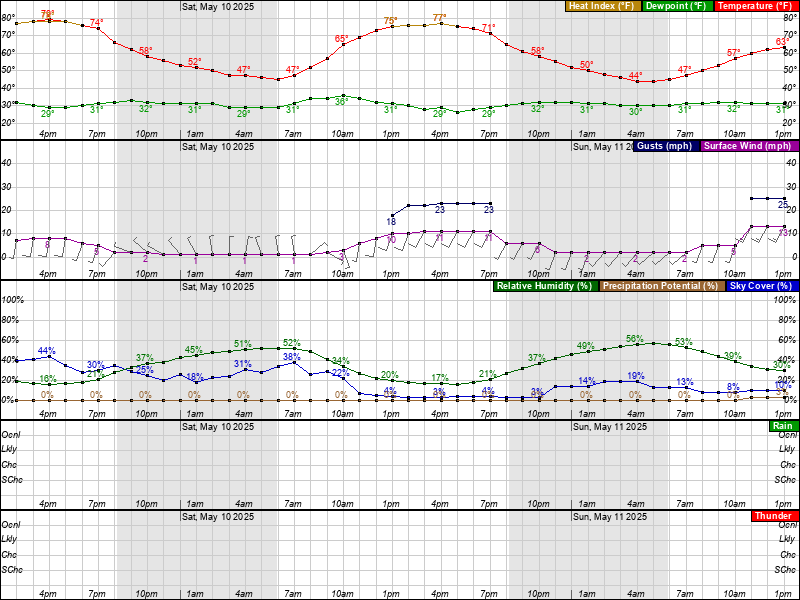 Meteogram courtesy of NOAA-National Weather Service
---
SAC - National Weather Service On Facebook
RENO - National Weather Service On Facebook


Please Donate to help maintain the operation of this Weather Station!
This weather site is a hobby and involves a considerable expenditure of time and money. Your contribution will help continue operation and maintenance of this weather station! You can use the donate button below to make a secure donation with PayPal. No amount is too small. Donations can also be made securely using any of the major credit cards.
If you find the Chester/Lake Almanor Weather Website useful to you, please consider making a small donation to help offset the routine expenses of operation of this website.
Thanks for your kind support!
---
Today's Weather Story
High pressure sets in over NorCal with a warming trend through next week. Temperatures to return to near-normal by the end of the week.
Fall Season Weather Safety Website
---
Useful Weather Links
Area Forecast Discussion
California State Weather Data
California WeatherShare Temperatures
California Hourly Weather Roundup
NWS Mesonet Observations
Precipitation Information Resources
Drought Information Resources
Northern California Climate Summaries
NOAA's El Niño Portal
---
National Outlook
Click Here for-----> NOAA Watch - U.S. Daily Briefing
Click Here for-----> NOAA/NWS Storm Prediction Center
Click Here for-----> NOAA Watch - Headlines
Click Here for-----> NOAA - Daily Weather Maps
Severe storms possible in Midwest
Potentially historic and life-threatening flooding continues across the Southeast
The threat for widespread, catastrophic flooding will continue across parts of the Southeast through the remainder of the weekend, as tropical moisture feeding into an area of low pressure produces moderate to heavy rainfall across the region. Gusty winds are also possible, which could lead to downed power lines. Do not attempt to drive into flooded roadways. Turn Around Don't Drown!
...Heavy rain and flash flooding likely for parts of the Southeast and the Southern Appalachians...
...Excessive rain and flash flooding possible for the Sierra-Nevada Mountains and Mojave Desert region Monday and Tuesday...
Moisture streaming around the upper-level low and associated quasi-stationary surface boundary offshore the East Coast is expected to persist over the next couple of days. Rain coverage and intensity has significantly decreased over New England and northern Mid-Atlantic regions. However, widespread rain with embedded thunderstorms is forecast to continue for much of the southern portions of the Mid-Atlantic down to Georgia. South Carolina is forecast to have additional rain amounts up to 12 inches over the next 3 days. Flash flooding and river flooding have already been reported across that area. The threat for ongoing or additional flooding will remain very high through midweek.
The upper-level energy over the Northern High Plains will slowly lift northeastward into Southern Canada by Monday morning. Precipitation is forecast across the Northern Rockies and High Plains through Monday. Another upper-level low will track toward southern California and will cause warm, moist air to stream in from the Gulf of California. This will prime the area for convective activity. Showers and thunderstorms will pop up over portions of the Desert Southwest, Great Basin and Central Rockies. Conditions will be favorable for heavy rain Monday and Tuesday for southern Nevada/California- primarily along the Sierra-Nevada range and the Mojave Desert.
Short Range Forecast Graphic available Here.
NOTE: The HPC National Forecast Map above, provides an overview of today's national weather with an emphasis on certain hazardous and significant weather. It summarizes forecasts from several NCEP Service Centers including the Storm Prediction Center (for severe thunderstorm and tornado outlooks), the National Hurricane Center (for tropical storm and hurricane forecasts), and the Hydrometeorological Prediction Center (for information concerning heavy rainfall, flooding, winter weather, and general weather). With an overlaid frontal forecast, this display serves as a great overview of the weather for the current day! The National Forecast Map is prepared twice daily at the Hydrometeorological Prediction Center.
U.S. Severe Weather Alerts Map
NWS Weather And Hazards Data Viewer
---
---
Weather History for October 4
1777

- The Battle of Germantown was fought in a morning fog that grew more dense with the smoke of battle, causing great confusion. Americans firing at each other contributed to the loss of the battle. (David Ludlum)


1869

- A great storm struck New England. The storm reportedly was predicted twelve months in advance by a British officer named Saxby. Heavy rains and high floods plagued all of New England, with strong winds and high tides over New Hampshire and Maine. Canton CT was deluged with 12.35 inches of rain. (David Ludlum)


1969

- Denver, CO, received 9.6 inches of snow. October of that year proved to be the coldest and snowiest of record for Denver, with a total snowfall for the month of 31.2 inches. (Weather Channel)


1986

- Excessive flooding was reported along the Mississippi River and all over the Midwest, from Ohio to the Milk River in Montana. In some places it was the worst flooding of record. (Sandra and TI Richard Sanders - 1987)


1987

- A storm brought record snows to the northeastern U.S. Snowfall totals ranged up to 21 inches at North Springfield VT. It was the earliest snow of record for some locations. The storm claimed 17 lives in central New York State, injured 332 persons, and in Vermont caused seventeen million dollars damage. The six inch snow at Albany NY was their earliest measurable snow in 117 years of records. (The National Weather Summary) (Storm Data) (The Weather Channel)


1987

- Southern California continued to "shake and bake". An earthquake was reported during the morning, the second in a matter of days, and during the afternoon temperatures soared well above 100 degrees. Highs of 100 degrees at San Francisco, and 108 degrees at Los Angeles and Santa Maria, were October records. San Luis Obispo was the hot spot in the nation with an afternoon high of 111 degrees. (The National Weather Summary).


1988

- Temperatures dipped below freezing in the north central U.S. Five cities in North Dakota and Nebraska reported record low temperatures for the date, including Bismarck ND with a reading of 17 degrees above zero. Low pressure brought snow and sleet to parts of Upper Michigan. (The National Weather Summary)


1989

- Unseasonably cold weather continued in the north central U.S., with freezing temperatures reported across much of the area from eastern North Dakota to Michigan and northwest Ohio. Thirteen cities reported record low temperatures for the date, including Saint Cloud MN, which was the cold spot in the nation with a morning low of 19 degrees. (The National Weather Summary)


Information courtesy of weatherforyou.com
---
Star Gazers 1539 - Sept 28th-Oct 4th, 2015
"Cygnus The Spectacular Swan"
For more on the Sun, Moon and the Stars, Click Here!
---
---
News of the Day
Click Here for Google California News
Click Here for More California News