For Multiple Area Watches, Warnings and Advisories issued by the NWS Sacramento,
Click Here
.
For Multiple Area Watches, Warnings or Advisories for California,
Click Here
.
Updated:

@
Summary / Temperature
Wind
Rain/Melted Snow
Cloud Level

Dry





70.8°F





Feels like:




77°F




Temp rate:


+1.8°F


24-hrs ago:


79.2°F


24-hr diff:


-8.4°F

Temp:
Today
Yesterday
High:

70.8°F


10:24am
89.9°F
1:15pm
Low:

53.1°F


5:46am
51.1°F
6:16am
NWS:
High
Low
Normal:
66.2°F
33.8°F
Record:
89.6°F
21.2°F
Year:
1997
1986

SSE




0.0




Gust:

0.0

0

Bft -

Calm

60-Min Avg:
Calm
120-Min Avg:
Calm
Max Gust:

1.0 mph

8:03am

Month:
19.0 mph Jul 3

Today:

0.00 in

Yesterday:

0.00 in

Last
Rain:
7/3/2015
4:53 PM
July:

1.71 in

Last 7 Days:
1.71 in
Rain Season:1

1.71 in

Rain Days:
40 in 2015
3 days since last rain.

Barometer ( inHg)
Humidity/Dew Point
Moon

Barometer:

29.706 inHg

1-Hr Trend:

Steady

3-Hr Trend:
Steady
High:

29.737

| Low:

29.662

Humidity:

46

%
Humidex:

72.7°F

Dew Point:

49.0°F

Wetbulb:

59.0°F

Waning Gibbous
63%
Illuminated

UV Forecast
Last Hour Difference

7 Jul 2015

Very High

9.2
8 Jul 2015

Very High

9.1
9 Jul 2015

Very High

9.3

Temperature: +1.8
Humidity: -12
Barometer: 0.000

Heat Index
Cooling Degree Days
Sun

Current:

77.0°F

Today:

77.1°F

10:14am

Yesterday:
86.7°F
Last Week:
93.7°F
Record:
94.5°F 19-Jul-2014

Today:
0.0
July:
35.6
2015 to Date:
121.1
Heating Degree Days
2015 to Date:
3303.3

Daylight:
14:55
:00 Min

Almanac
Snow3
Station All Time Records
Fire Risk

| | |
| --- | --- |
| Sunrise: | 5:42am |
| Sunset: | 8:37pm |
| Moonrise: | 11:49pm |
| Moonset: | 12:05am |
| Full Moon: | 2 July 2015 |
| New Moon: | 01:25 UTC 16 July 2015 |
| Current: | Moon age: 20 days,22 hours,21 minutes,63% |

Today:
0.00 in
Yesterday:
0.00 in
July:
0.00 in
Season Total:2
0.00 in
Snow Depth:
0.00 in
0 snow day in July
0 snow day in all 2015.
Outside Now
Air Density:
1.184 kg/m3
Cloud Height:

9522 ft

HIGHS:
LOWS:
99.3°F
01-Jul-2014
-9.0°F
13-Jan-2013
Day Time Records
82.8 F on: Jun 25 2015
13.1F on: Jan 13 2013
Night Time Records
72.5F on: Jul 11 2014
1.6F on: Jan 13 2013
ICN:0 ISS:Ok CON:4.2 RCP:97%

Chandler Burning Index
Currently:
24.3 at 10:25 AM

1 Rain season: July 1st to June 30th. 2 Snow season July 1st to June 30th. 3 Snow manually measured

NWS Weather Forecast - NWS Forecast for: Chester CA
Issued by: National Weather Service Sacramento, CA
Last Update's and 's Outlook


NWS forecast:
Local station forecast:

Mostly cloudy and cooler. precipitation possible within 12 hours, possibly heavy at times. windy.



NWS forecast:
NWS Short Term Weather Forecast

Chester, CA Forecast en Español
NWS Hourly Weather Graph For Chester, CA The Next 48 Hours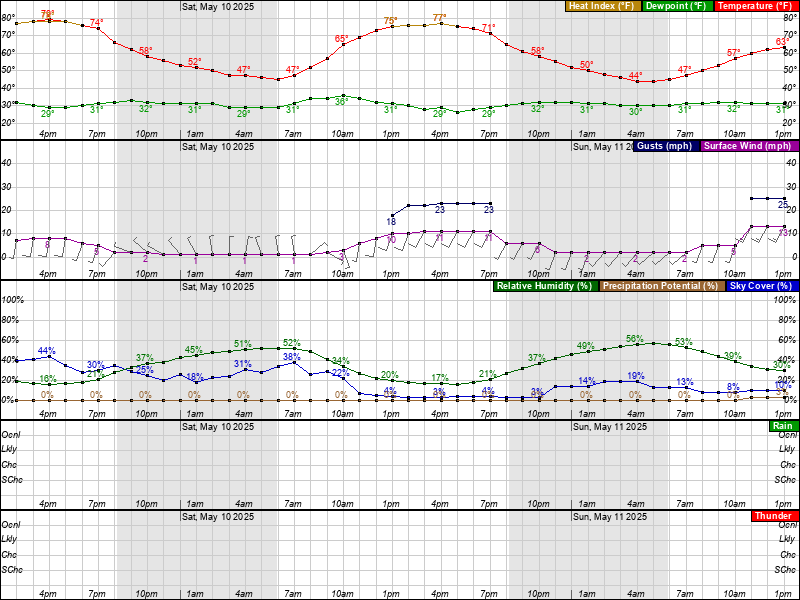 Meteogram courtesy of NOAA-National Weather Service
---
SAC - National Weather Service On Facebook
RENO - National Weather Service On Facebook


Please Donate to help maintain the operation of this Weather Station!
This weather site is a hobby and involves a considerable expenditure of time and money. Your contribution will help continue operation and maintenance of this weather station! You can use the donate button below to make a secure donation with PayPal. No amount is too small. Donations can also be made securely using any of the major credit cards.
If you find the Chester/Lake Almanor Weather Website useful to you, please consider making a small donation to help offset the routine expenses of operation of this website.
Thanks for your kind support!
---
Today's Weather Story
A low pressure area off the coast and monsoonal moisture in the area will continue afternoon and evening thunderstorms all week. As the low pressure moves inland the thunderstorm activity will increase Tuesday through Thursday. Some storms may reach the Sacramento Valley, mainly North of Interstate 80 Wednesday night through Thursday. The storms are expected to be very wet over the higher elevations with some rainfall associated with the thunderstorms in the valley. Local impacts from the thunderstorm may include heavy rain, hazardous travel, mudslides, and frequent and dangerous lightning. Temperatures will cool thru Thursday to below normal values.
Summer Season Weather Safety Website
---
Useful Weather Links
Area Forecast Discussion
California State Weather Data
California WeatherShare Temperatures
California Hourly Weather Roundup
NWS Mesonet Observations
Precipitation Information Resources
Drought Information Resources
Northern California Climate Summaries
NOAA's El Niño Portal
---
National Outlook
Click Here for-----> NOAA Watch - U.S. Daily Briefing
Click Here for-----> NOAA/NWS Storm Prediction Center
Click Here for-----> NOAA Watch - Headlines
Click Here for-----> NOAA - Daily Weather Maps
Heavy rain could bring flash flooding to parts of southern Plains
Showers and thunderstorms associated with a slow-moving frontal system will bring heavy rainfall to parts of the southern Plains and mid-Mississippi Valley, which could result in flash flooding. The heaviest rainfall is expected across parts of northern Texas and southern Oklahoma. Some locations could see rainfall rates of up to 2 inches per hour.
***Stormy weather from the southern Plains to the Great Lakes***
***Heavy rain event for parts of the southern Plains***
***Hot conditions for much of the western U.S.***
The weather pattern over the nation through Wednesday will feature a cold front tracking southeastward across the Midwest and Great Lakes, and a weakening warm front over the Mid-Atlantic region. Pleasant weather will settle in behind this boundary and humidity levels will be more comfortable.
This cold front will likely have the greatest impacts over parts of Oklahoma and northern Texas as the southern portion of this front stalls over that region. A heavy rainfall event is forecast to continue into Tuesday as deep moisture from the Gulf of Mexico gets lifted upward by the front. Several inches of rainfall is a good possibility for some areas and flash flood watches are in effect from the Texas panhandle to Missouri.
For the western U.S., it will be very warm to hot for many areas from the Pacific Northwest to the Desert Southwest, although not as hot as the past week. This is where an upper level ridge will prevail. Monsoonal moisture in place over the interior West will allow for the development of scattered showers and storms each afternoon.
Short Range Forecast Graphic available Here.
NOTE: The HPC National Forecast Map above, provides an overview of today's national weather with an emphasis on certain hazardous and significant weather. It summarizes forecasts from several NCEP Service Centers including the Storm Prediction Center (for severe thunderstorm and tornado outlooks), the National Hurricane Center (for tropical storm and hurricane forecasts), and the Hydrometeorological Prediction Center (for information concerning heavy rainfall, flooding, winter weather, and general weather). With an overlaid frontal forecast, this display serves as a great overview of the weather for the current day! The National Forecast Map is prepared twice daily at the Hydrometeorological Prediction Center.
U.S. Severe Weather Alerts Map
NWS Weather And Hazards Data Viewer
---
---
Weather History for July 7
1905

- The mercury soared to 127 degrees at Parker, AZ, to tie the state record established at Fort Mohave on the 15th of June in 1896. (The Weather Channel)


1915

- A severe wind and thunderstorm caused heavy damage and 38 deaths in and near Cincinnati, OH. Many older buildings were demolished. The steamship Dick Fulton was overturned. (The Weather Channel)


1981

- Montana was in the midst of a snowstorm that dumped ten inches at Glacier National Park, and produced winds to 90 mph. Meanwhile, Denver, CO, set a record high with a reading of 101 degrees. (The Weather Channel)


1987

- Thunderstorms spawned eight tornadoes in Colorado, and three in West Texas. Thunderstorms also produced softball size hail at Bula, TX. In the midst of a record thirty-nine day string of 100 degree days, the temperature at Tucson, AZ, dipped to 66 degrees, marking their third straight record low for the date. (The National Weather Summary) (Storm Data)


1988

- Thirty-eight cities in the north central and northeastern U.S. reported record low temperatures for the date. Youngstown, OH, hit 100 degrees, and for the second day in a row, Flint, MI, reached 101 degrees, equalling all-time records for those two cities. (The National Weather Summary)


1989

- Thunderstorms produced severe weather during the day, with more than 100 reports of large hail and damaging winds from Ohio to Massachusetts and New Hampshire. Thunderstorm winds reached 90 mph in Sullivan County, NH, and golf ball size hail was reported in Pennsylvania. Twenty-four cities, mostly in the southwestern U.S., reported record high temperatures for the date. Afternoon highs of 105 degrees at Cedar City, UT, and 114 degrees at Moab, UT, were all-time records for those locations. (Storm Data) (The National Weather Summary)


Information courtesy of weatherforyou.com
---
Star Gazers 1527 - July 6-12, 2015
"It's Zubenelgenubi And Zubeneschamali Time!"
For more on the Sun, Moon and the Stars, Click Here!
---
---
News of the Day
Click Here for Google California News
Click Here for More California News