From Summer Going Into Fall Drawing!!!
There is only 6 days left....
Time is running out....Please make your donation today!
The Autumnal Equinox was on September 22nd. Which started the autumn season in the northern hemisphere!
We are having a drawing for this Weather Station Radio and you could be the winner!!!!
To get into the drawing, all you have to do is make any donation between now and October 31st, 2014. Your contribution will help continue operation and maintenance of this weather station! You can use the donate button below to make a secure donation with PayPal. No amount is too small. Donations can also be made securely using any of the major credit cards. We will draw one name on October 31st and announce the winner here!!!!
It's our way of "Thanking You" for your support of the Chester Weather Center!!!
---
For Fire Weather Info, Click Here!
For Current California Fire Info, Click Here!
There are no active watches, warnings or advisories for zone CAZ068.
For Multiple Area Watches, Warnings and Advisories issued by the NWS Sacramento,
Click Here
.
For Multiple Area Watches, Warnings or Advisories for California,
Click Here
.
Updated:

@
Summary / Temperature
Wind
Rain/Melted Snow
Cloud Level

Stopped raining





48.8°F





Feels like:




49°F




Temp rate:


+1.7°F


24-hrs ago:


44.3°F


24-hr diff:


4.5°F

Temp:
Today
Yesterday
High:

55.0°F


2:57am
68.1°F
1:45pm
Low:

41.8°F


12:00am
34.3°F
7:57am
NWS:
High
Low
Normal:
66.2°F
33.8°F
Record:
89.6°F
21.2°F
Year:
1997
1986

SW




0.0




Gust:

0.0

0

Bft -

Calm

60-Min Avg:
Calm
120-Min Avg:
Calm
Max Gust:

21.0 mph

3:15am

Month:
20.0 mph Oct 25

Today:

0.20 in

Rate (/hr):

0.02 in

Storm Rain:
0.20 in
Yesterday:

0.00 in

October:

0.64 in

Last 7 Days:
0.26 in
Rain Season:1

2.21 in

Rain Days:
60 in 2014
4 rain days in October

Barometer ( inHg)
Humidity/Dew Point
Moon

Barometer:

29.839 inHg

1-Hr Trend:

Rising

3-Hr Trend:
Rising
High:

29.839

| Low:

29.553

Humidity:

77

%
Humidex:

47.8°F

Dew Point:

41.9°F

Wetbulb:

45.7°F

Waxing Crescent
6%
Illuminated

UV Forecast
Last Hour Difference

26 Oct 2014

Medium

3.5
27 Oct 2014

Medium

4.1
28 Oct 2014

Medium

4.2

Temperature: +1.7
Humidity: -4
Barometer: +0.036

Wind Chill
Heating Degree Days
Sun

Current:

48.8°F

Today:

39.8°F

at 10:24am

Yesterday:
34.3°F
Last Week:
40.3°F
Record:
-9.0°F 13-Jan-2013

Today:
15.4
October:
360.0
2014 to Date:
3585.7
Cooling Degree Days
2014 to Date:
252.5

Daylight:
11:43
:53 Min

Almanac
Snow3
Station All Time Records
Fire Risk

| | |
| --- | --- |
| Sunrise: | 6:27am |
| Sunset: | 6:10pm |
| Moonrise: | 9:10am |
| Moonset: | 7:32pm |
| Full Moon: | 6 November 2014 |
| New Moon: | 12:33 UTC 22 November 2014 |
| Current: | Moon age: 2 days,6 hours,10 minutes,6% |

Today:
0.00 in
Yesterday:
0.00 in
October:
0.00 in
Season Total:2
0.00 in
Snow Depth:
0.00 in
0 snow day in October
0 snow day in all 2014.
Outside Now
Air Density:
1.242 kg/m3
Cloud Height:

6108 ft

HIGHS:
LOWS:
99.3°F
01-Jul-2014
-9.0°F
13-Jan-2013
Day Time Records
81.1 F on: Jul 03 2013
13.1F on: Jan 13 2013
Night Time Records
72.5F on: Jul 11 2014
1.6F on: Jan 13 2013
ICN:1 ISS:Ok CON:0.0 RCP:98%

Chandler Burning Index
Currently:
0.6 at 10:05 PM

1 Rain season: July 1st to June 30th. 2 Snow season July 1st to June 30th. 3 Snow manually measured

NWS Weather Forecast - Tonight's and Sunday's Outlook
Tonight


Showers

Lo

32 °F

NWS forecast: Showers and possibly a thunderstorm before 11pm, then showers likely. Low around 32. Southwest wind 9 to 16 mph, with gusts as high as 24 mph. Chance of precipitation is 80%. New rainfall amounts of less than a tenth of an inch, except higher amounts possible in thunderstorms.
Local station forecast:

Partly cloudy and cooler.

Sunday


Slight Chc
Showers
Hi

54 °F

NWS forecast: A 20 percent chance of showers before 11am. Partly sunny, with a high near 54. West southwest wind 5 to 7 mph becoming calm in the morning.
NWS Short Term Weather Forecast
Sunday


Slight Chc
Showers
Hi

54 °F

Sunday
Night

Mostly
Cloudy
Lo

27 °F

Monday


Mostly
Sunny
Hi

59 °F

Monday
Night

Partly
Cloudy
Lo

31 °F

Tuesday


Partly
Sunny
Hi

65 °F

Tuesday
Night

Slight Chc
Rain
Lo

34 °F

Wednesday


Partly
Sunny
Hi

67 °F

Wednesday
Night

Partly
Cloudy
Lo

35 °F
Chester, CA Forecast en Español
NWS Hourly Weather Graph For Chester, CA The Next 48 Hours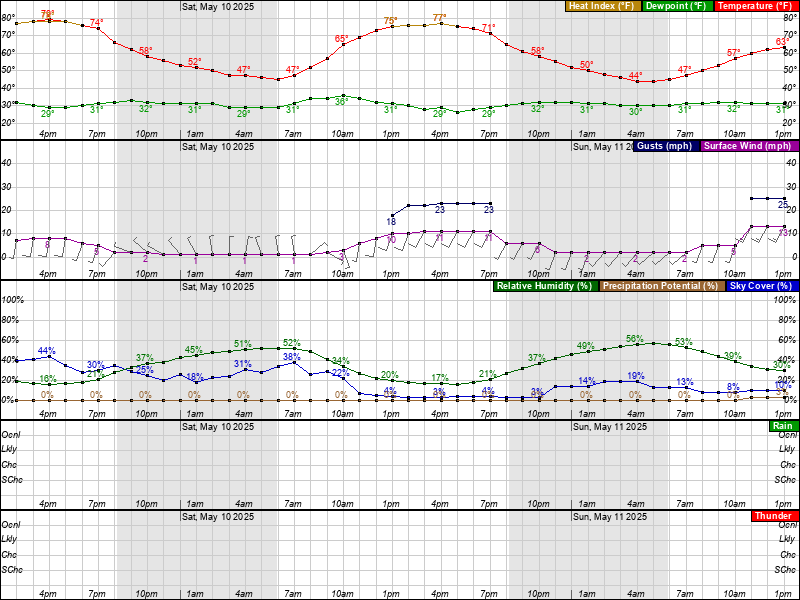 Meteogram courtesy of NOAA-National Weather Service
---
SAC - National Weather Service On Facebook
RENO - National Weather Service On Facebook


Please Donate to help maintain the operation of this Weather Station!
This weather site is a hobby and involves a considerable expenditure of time and money. Your contribution will help continue operation and maintenance of this weather station! You can use the donate button below to make a secure donation with PayPal. No amount is too small. Donations can also be made securely using any of the major credit cards.
If you find the Chester/Lake Almanor Weather Website useful to you, please consider making a small donation to help offset the routine expenses of operation of this website.
Thanks for your kind support!
---
Today's Weather Story
Frontal system moving inland today. Thunderstorms probable over most of NorCal with the strongest in the Sacramento Valley. Motorists & residents should stay alert for changing weather conditions. Strong southerly winds also accompany this storm. Impacts from storm include downed power lines/localized power outages, lightning, hail, isolated tornadoes, moderate to heavy rain, minor flooding, and local slides over burn scars. The effects of the strong wind on trees is enhanced due to the leaves still being on the trees.
California Flood Preparedness Week is October 20-25
---
Useful Weather Links
Area Forecast Discussion
California State Weather Data
California WeatherShare Temperatures
California Hourly Weather Roundup
NWS Mesonet Observations
Precipitation Information Resources
Drought Information Resources
Northern California Climate Summaries
NOAA's El Niño Portal
---
National Outlook
Click Here for-----> NOAA Watch - U.S. Daily Briefing
Click Here for-----> NOAA/NWS Storm Prediction Center
Click Here for-----> NOAA Watch - Headlines
Click Here for-----> NOAA - Daily Weather Maps
Wet and stormy weather continues across Pacific Northwest
Most of the country will experience tranquil weather this weekend. The exception will be the Pacific Northwest and northern California where a series of storm systems will bring rain, strong winds and thunderstorms through Saturday.
***Unsettled weather continues for the Pacific Northwest***
***Very warm temperatures over the central U.S.***
***Relatively quiet weather pattern elsewhere***
The Pacific Northwest should expect multiple rounds of rain over the next few days as onshore flow and a strong Pacific storm system moves over the region through Saturday evening. The sub-1000mb low is expected to track towards the northeast across Washington state and bring a cold front through the Inter-Mountain West this weekend. Snow levels will drop after its passage, with accumulating snow likely for the higher elevations. Moderate to locally heavy rain is expected near the coast.
Elsewhere across the continental U.S., a building upper level ridge ahead of the Pacific storm system will allow for well-above average temperatures across much of the Plains and Deep South. Widespread highs in the 80s are likely, with a few locations in Texas and Oklahoma reaching 90 degrees, which could easily set some record highs. Dry weather is expected through the weekend.
Over the East Coast, improving conditions are expected for the Northeast U.S. as the nor'easter moves farther away and high pressure build in. Sunny to partly cloudy skies will be enjoyed for most areas through the weekend.
Short Range Forecast Graphic available Here.
NOTE: The HPC National Forecast Map above, provides an overview of today's national weather with an emphasis on certain hazardous and significant weather. It summarizes forecasts from several NCEP Service Centers including the Storm Prediction Center (for severe thunderstorm and tornado outlooks), the National Hurricane Center (for tropical storm and hurricane forecasts), and the Hydrometeorological Prediction Center (for information concerning heavy rainfall, flooding, winter weather, and general weather). With an overlaid frontal forecast, this display serves as a great overview of the weather for the current day! The National Forecast Map is prepared twice daily at the Hydrometeorological Prediction Center.
U.S. Severe Weather Alerts Map
NWS Weather And Hazards Data Viewer
---
---
Weather History for October 25
1921

- A hurricane with 100 mph winds hit Tampa, FL, causing several million dollars damage. (David Ludlum)


1977

- Dutch Harbor in Alaska reported a barometric pressure reading of 27.31 inches (925 millibars) to establish an all-time record for the state. (The Weather Channel)


1981

- A northbound tornado caused two million dollars damage to Bountstown, FL, in less than five minutes. Fortunately no deaths occurred along its six mile path, which was 30 to 100 yards in width. Radar at Apalachicola had no indication of a tornado or severe weather. (The Weather Channel)


1987

- A storm system moving across the Saint Lawrence Valley produced 40 to 50 mph winds east of Lake Ontario. High winds downed some trees around Watertown NY, and produced waves seven feet high between Henderson Harbor and Alexandria Bay. Mason City IA and Waterloo IA tied for honors as cold spot in the nation with record lows for the date of 19 degrees. Severe thunderstorms in Oklahoma and northern Texas produced golf ball size hail and wind gusts to 65 mph. (The National Weather Summary) (Storm Data)


1988

- Severe thunderstorms erupted over northeastern Texas during the late evening producing softball size hail at Newcastle and Jonesboro. Low pressure over James Bay in Canada continued to produced showers and gale force winds in the Great Lakes Region. (The National Weather Summary) (Storm Data)


1989

- Low pressure over Nevada produced high winds in the southwestern U.S., and spread heavy snow into Utah. Winds gusted to 63 mph at the Mojave Airport in southern California. Snowfall totals in Utah ranged up to 12 inches at Snowbird, with 11 inches at Alta. "Indian Summer" type weather continued in the central and eastern U.S. Twenty cities in the north central U.S. reported record high temperatures for the date. Highs of 77 degrees at Alpena MI and 81 degrees at Saint Cloud MN were the warmest of record for so late in the season. (The National Weather Summary) (Storm Data)


Information courtesy of weatherforyou.com
---
Star Gazers 1442 - Oct 20- 26, 2014
"Trick Or Treating With The Seven Sinister Sisters"
For more on the Sun, Moon and the Stars, Click Here!
---
---
News of the Day
Click Here for Google California News
Click Here for More California News