There are no active watches, warnings or advisories for zone CAZ068.
For Multiple Area Watches, Warnings and Advisories issued by the NWS Sacramento,
Click Here
.
For Multiple Area Watches, Warnings or Advisories for California,
Click Here
.
Updated:

@
Summary / Temperature
Wind
Rain/Melted Snow
Cloud Level

Dry





47.4°F





Feels like:




47°F




Temp rate:


-3.2°F


24-hrs ago:


42.1°F


24-hr diff:


5.3°F

Temp:
Today
Yesterday
High:

50.4°F


12:00am
65.6°F
1:10pm
Low:

47.4°F


12:49am
35.5°F
4:34am
NWS:
High
Low
Normal:
66.2°F
33.8°F
Record:
89.6°F
21.2°F
Year:
1997
1986

N




0.0




Gust:

0.0

0

Bft -

Calm

60-Min Avg:
Calm
120-Min Avg:
Calm
Max Gust:

0.0 mph

7:28am

Month:
13.0 mph Apr 13

Today:

0.00 in

Yesterday:

0.00 in

Last
Rain:
4/4/2014
2:55 PM
April:

0.29 in

Last 7 Days:
0.00 in
Rain Season:1

10.47 in

Rain Days:
35 in 2014
12 days since last rain.

Barometer ( inHg)
Humidity/Dew Point
Moon

Barometer:

29.682 inHg

1-Hr Trend:

Falling slowly

3-Hr Trend:
Falling
High:

29.712

| Low:

29.673

Humidity:

56

%
Humidex:

43.6°F

Dew Point:

32.5°F

Wetbulb:

41.4°F

Waning Gibbous
95%
Illuminated

UV Forecast
Last Hour Difference

17 Apr 2014

High

6.4
18 Apr 2014

High

6.7
19 Apr 2014

High

7.0

Temperature: -3.2
Humidity: + 8
Barometer: -0.019

Wind Chill
Heating Degree Days
Sun

Current:

47.4°F

Today:

47.4°F

at 12:49am

Yesterday:
35.5°F
Last Week:
28.3°F
Record:
-9.0°F 13-Jan-2013

Today:
0.5
April:
326.6
2014 to Date:
2332.9
Cooling Degree Days
2014 to Date:
0.0

Daylight:
13:21
:05 Min

Almanac
Snow3
Station All Time Records
Fire Risk

| | |
| --- | --- |
| Sunrise: | 6:23am |
| Sunset: | 7:44pm |
| Moonrise: | 9:36pm |
| Moonset: | 7:59am |
| Full Moon: | 15 April 2014 |
| New Moon: | 06:15 UTC 29 April 2014 |
| Current: | Moon age: 16 days,19 hours,17 minutes,95% |

Today:
0.00 in
Yesterday:
0.00 in
April:
0.00 in
Season Total:2
0.00 in
Snow Depth:
0.00 in
0 snow day in April
0 snow day in all 2014.
Outside Now
Air Density:
1.240 kg/m3
Cloud Height:

7946 ft

HIGHS:
LOWS:
96.3°F
02-Jul-2013
-9.0°F
13-Jan-2013
Day Time Records
81.1 F on: Jul 03 2013
13.1F on: Jan 13 2013
Night Time Records
70.9F on: Jul 25 2010
1.6F on: Jan 13 2013
ICN:1 ISS:Ok CON:4.2 RCP:100%

Chandler Burning Index
Currently:
10.7 at 00:50 AM

1 Rain season: July 1st to June 30th. 2 Snow season July 1st to June 30th. 3 Snow manually measured

NWS Weather Forecast - 's and 's Outlook
Overnight


Mostly
Clear
Lo

31 °F

NWS forecast:
Local station forecast:

Mostly cloudy and cooler. precipitation possible within 12 hours, possibly heavy at times. windy.

Thursday


Mostly
Sunny
Hi

72 °F

NWS forecast:
NWS Short Term Weather Forecast
Thursday


Mostly
Sunny
Hi

72 °F

Thursday
Night

Chance
Showers
Lo

35 °F

Friday


Slight Chc
T-Storms
Hi

67 °F

Friday
Night

Partly
Cloudy
Lo

31 °F

Saturday


Mostly
Sunny
Hi

68 °F

Saturday
Night

Mostly
Clear
Lo

31 °F

Sunday


Mostly
Sunny
Hi

70 °F

Sunday
Night

Mostly
Cloudy
Lo

30 °F
Chester, CA Forecast en Español
NWS Hourly Weather Graph For Chester, CA The Next 48 Hours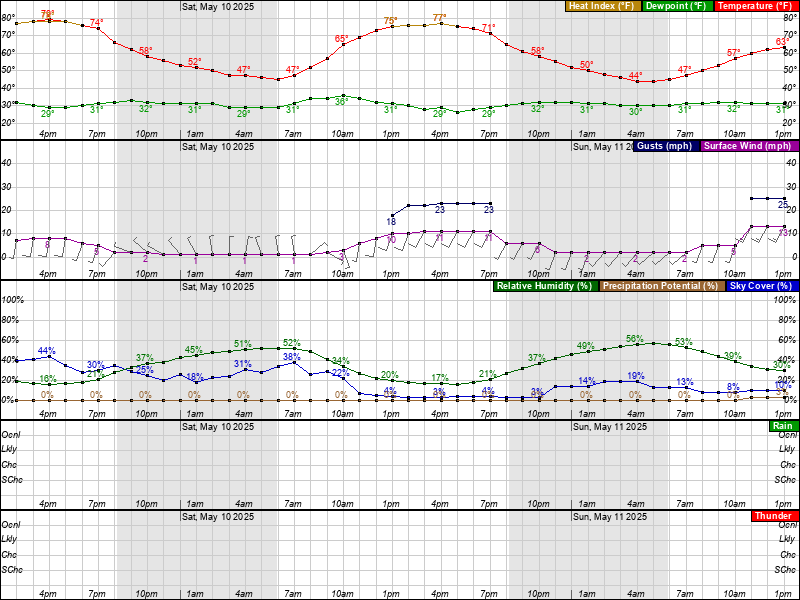 Meteogram courtesy of NOAA-National Weather Service
---
SAC - National Weather Service On Facebook
RENO - National Weather Service On Facebook


Please Donate to help maintain the operation of this Weather Station!
This weather site is a hobby and involves a considerable expenditure of time and money. Your contribution will help continue operation and maintenance of this weather station! You can use the donate button below to make a secure donation with PayPal. No amount is too small. Donations can also be made securely using any of the major credit cards.
If you find the Chester/Lake Almanor Weather Website useful to you, please consider making a small donation to help offset the routine expenses of operation of this website.
Thanks for your kind support!
---
Today's Weather Story
Another warm, sunny and breezy day for interior northern California. Check out the graphical weather forecast for your area. The strongest wind gusts are expected to occur between 10 AM and 2 PM today. The arrows indicate the direction from which the wind will be blowing (from the north). The legends are to the left of each graphic.
---
Area Forecast Discussion
California State Weather Data
California WeatherShare Temperatures
California Hourly Weather Roundup
NWS Mesonet Observations
Drought Information Resources
---
National Outlook
Click Here for-----> NOAA Watch - U.S. Daily Briefing
Click Here for-----> NOAA Watch - Headlines
Click Here for-----> NOAA - Daily Weather Maps
Heavy snow forecast for parts of Upper Midwest and western Great Lakes
A cold air mass behind a cold front will bring below-normal temperatures across much of the eastern and northern U.S. on Wednesday and allow for snow, heavy at times, to develop across parts of the Upper Midwest and western Great Lakes, mainly from central Minnesota to northern Michigan. Winter Storm Warnings and Winter Weather Advisories are in effect across the region.
***Unseasonably cold across the central and eastern U.S.***
***Round of snow for the Upper Midwest and northern Michigan***
***More rain and snow showers returning to the West***
After several days of very warm temperatures by mid-April standards, a much colder air mass has settled into the central and eastern U.S. behind a strong cold front. After a frosty and record cold morning across many areas from the Deep South to the Northeast, a chilly day on Wednesday can be expected as the surface high from Canada settles in, under mostly sunny skies. Another cold night is expected on Wednesday night for the East Coast, but it may be a few degrees warmer than this morning's low temperatures.
With the next storm system passing over the central and northern Rocky Mountains into the central U.S. on Wednesday, light to occasionally moderate snow is expected from central Minnesota to northern Michigan. As this system lifts northeastward into Canada, it is expected to weaken and produce less precipitation along the trailing cold front. Across the Pacific Northwest, conditions will be somewhat unsettled with moist onshore flow resulting in occasional rain and mountain snow showers. Temperatures along the West Coast should be close to seasonal average for the middle of the week. For the Florida peninsula, expect isolated showers with the easterly flow off the Atlantic.
NOTE: The HPC National Forecast Map above, provides an overview of today's national weather with an emphasis on certain hazardous and significant weather. It summarizes forecasts from several NCEP Service Centers including the Storm Prediction Center (for severe thunderstorm and tornado outlooks), the National Hurricane Center (for tropical storm and hurricane forecasts), and the Hydrometeorological Prediction Center (for information concerning heavy rainfall, flooding, winter weather, and general weather). With an overlaid frontal forecast, this display serves as a great overview of the weather for the current day! The National Forecast Map is prepared twice daily at the Hydrometeorological Prediction Center.
U.S. Severe Weather Alerts Map
NWS Weather And Hazards Data Viewer
---
---
Weather History for April 17
1922

- A family of at least six tornadoes caused death and destruction along parts of a 210 mile path from north of Ogden IL to Allen County OH, killing sixteen persons. A post card, picked up in Madison County IN, was found 124 miles away near Mount Cory OH. (The Weather Channel)


1953

- One of the few severe hailstorms accompanied by snow, sleet, glaze, and rain, pelted parts of Kay, Osage, Creek, Tulsa, Washington, and Rogers Counties in northeastern Oklahoma late in the day. Nearly 10,000 insurance claims were filed. (The Weather Channel)


1965

- The Mississippi River reached a flood crest at Saint Paul MN four feet higher than any previous mark. During the next two weeks record levels were reached along the Mississippi between Saint Paul and Hannibal MO. Flooding caused more than 100 million dollars damage, but timely warnings kept the death toll down to just twelve persons. (David Ludlum)


1987

- Twenty-two cities in the central U.S. reported new record high temperatures for the date. Temperatures warmed into the 70s and 80s from the High Plains Region to the Mississippi Valley, with readings in the low 90s reported in the Southern Plains Region. Tulsa OK hit 92 degrees. (The National Weather Summary)


1988

- Heavy snow blanketed northern Arizona. Snowfall totals ranged up to 16 inches at Pinetop, with 10 inches reported at Flagstaff. Afternoon thunderstorms spawned a couple of tornadoes in Idaho. (The National Weather Summary) (Storm Data)


1989

- Arctic cold invaded the north central U.S. Missoula MT was blanketed with four inches of snow, and Glasgow MT reported a record cold morning low of 14 degrees above zero. (Storm Data) (The National Weather Summary)


1990

- High winds in northern Utah, gusting to 90 mph in Weber County, blew a trampoline through a living room window, and strong winds associated with a cold front crossing the Middle Atlantic Coast Region gusted to 75 mph in the Chesapeake Bay area of Virginia. Unseasonably cold weather prevailed in the north central U.S. Valentine NE was the cold spot in the nation with a record low of 10 degrees. (The National Weather Summary) (Storm Data)


Information courtesy of weatherforyou.com
---
Star Gazers 1415 - April 14-20, 2014
"Planet Hopping All Night Long"
For more on the Sun, Moon and the Stars, Click Here!
---
---
News of the Day
Click Here for Google California News
Click Here for More California News