There are no active watches, warnings or advisories for zone CAZ068.
For Multiple Area Watches, Warnings and Advisories issued by the NWS Sacramento,
Click Here
.
For Multiple Area Watches, Warnings or Advisories for California,
Click Here
.
Updated:

@
Summary / Temperature
Wind
Rain/Melted Snow
Cloud Level

Dry





73.7°F





Feels like:




77°F




Temp rate:


-4.1°F


24-hrs ago:


74.9°F


24-hr diff:


-1.2°F

Temp:
Today
Yesterday
High:

86.3°F


4:24pm
88.4°F
3:48pm
Low:

47.6°F


6:36am
44.3°F
6:43am
NWS:
High
Low
Normal:
66.2°F
33.8°F
Record:
89.6°F
21.2°F
Year:
1997
1986

SW




0.0




Gust:

0.0

0

Bft -

Calm

60-Min Avg:
Calm
120-Min Avg:
Calm
Max Gust:

7.0 mph

3:58pm

Month:
16.0 mph Aug 1

Today:

0.00 in

Yesterday:

0.00 in

Last
Rain:
8/6/2014
2:45 AM
August:

0.74 in

Last 7 Days:
0.00 in
Rain Season:1

1.12 in

Rain Days:
54 in 2014
21 days since last rain.

Barometer ( inHg)
Humidity/Dew Point
Moon

Barometer:

29.740 inHg

1-Hr Trend:

Falling slowly

3-Hr Trend:
Steady
High:

29.921

| Low:

29.728

Humidity:

30

%
Humidex:

72.2°F

Dew Point:

40.3°F

Wetbulb:

57.0°F

Waxing Crescent
11%
Illuminated

UV Forecast
Last Hour Difference

29 Aug 2014

Very High

8.2
30 Aug 2014

High

7.7
31 Aug 2014

High

7.9

Temperature: -4.1
Humidity: + 2
Barometer: -0.025

Heat Index
Cooling Degree Days
Sun

Current:

76.6°F

Today:

83.1°F

4:24pm

Yesterday:
84.7°F
Last Week:
84.7°F
Record:
94.5°F 19-Jul-2014

Today:
0.1
August:
29.4
2014 to Date:
244.6
Heating Degree Days
2014 to Date:
3070.7

Daylight:
13:13
:54 Min

Almanac
Snow3
Station All Time Records
Fire Risk

| | |
| --- | --- |
| Sunrise: | 6:29am |
| Sunset: | 7:42pm |
| Moonrise: | 10:24am |
| Moonset: | 9:05pm |
| Full Moon: | 9 September 2014 |
| New Moon: | 06:14 UTC 24 September 2014 |
| Current: | Moon age: 3 days,4 hours,59 minutes,11% |

Today:
0.00 in
Yesterday:
0.00 in
August:
0.00 in
Season Total:2
0.00 in
Snow Depth:
0.00 in
0 snow day in August
0 snow day in all 2014.
Outside Now
Air Density:
1.180 kg/m3
Cloud Height:

12169 ft

HIGHS:
LOWS:
99.3°F
01-Jul-2014
-9.0°F
13-Jan-2013
Day Time Records
81.1 F on: Jul 03 2013
13.1F on: Jan 13 2013
Night Time Records
72.5F on: Jul 11 2014
1.6F on: Jan 13 2013
ICN:1 ISS:Ok CON:4.2 RCP:98%

Chandler Burning Index
Currently:
58.8 at 8:20 PM

1 Rain season: July 1st to June 30th. 2 Snow season July 1st to June 30th. 3 Snow manually measured

NWS Weather Forecast - Tonight's and Friday's Outlook
Tonight


Mostly
Clear
Lo

48 °F

NWS forecast: Mostly clear, with a low around 48. West northwest wind 5 to 9 mph.
Local station forecast:

Mostly cloudy and cooler. windy

Friday


Mostly
Sunny
Hi

85 °F

NWS forecast: Mostly sunny, with a high near 85. Light and variable wind becoming southwest 6 to 11 mph in the afternoon.
NWS Short Term Weather Forecast
Friday


Mostly
Sunny
Hi

85 °F

Friday
Night

Partly
Cloudy
Lo

47 °F

Saturday


Mostly
Sunny
Hi

82 °F

Saturday
Night

Mostly
Clear
Lo

45 °F

Sunday


Sunny

Hi

83 °F

Sunday
Night

Mostly
Clear
Lo

45 °F

Labor
Day

Sunny

Hi

84 °F

Monday
Night

Mostly
Clear
Lo

46 °F
Chester, CA Forecast en Español
NWS Hourly Weather Graph For Chester, CA The Next 48 Hours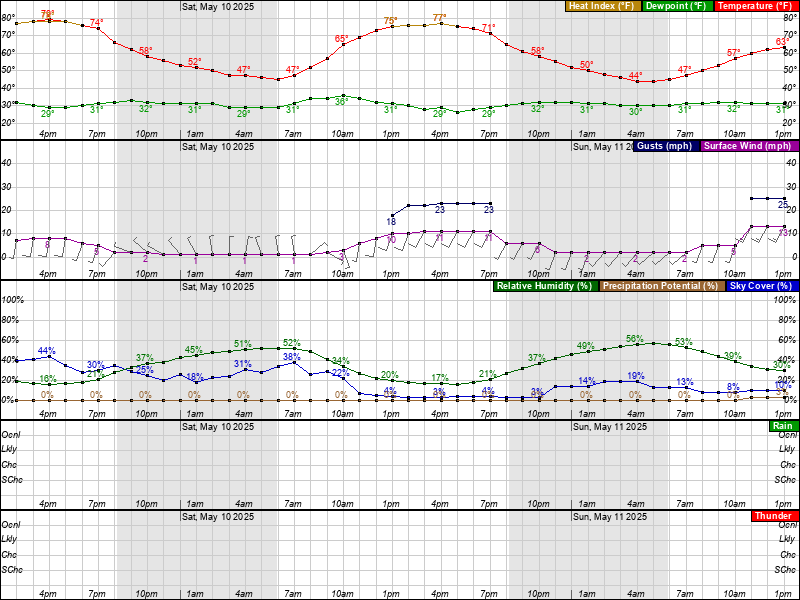 Meteogram courtesy of NOAA-National Weather Service
---
SAC - National Weather Service On Facebook
RENO - National Weather Service On Facebook


Please Donate to help maintain the operation of this Weather Station!
This weather site is a hobby and involves a considerable expenditure of time and money. Your contribution will help continue operation and maintenance of this weather station! You can use the donate button below to make a secure donation with PayPal. No amount is too small. Donations can also be made securely using any of the major credit cards.
If you find the Chester/Lake Almanor Weather Website useful to you, please consider making a small donation to help offset the routine expenses of operation of this website.
Thanks for your kind support!
---
Today's Weather Story
Warm and dry conditions are expected for much of the next 5 days. A bit of moisture from a weakening Hurricane Marie may move over NorCal this Friday and Saturday, but should amount to little except some cloud cover and perhaps a few mountain sprinkles. Enjoy and be safe this holiday weekend!
---
Useful Weather Links
Area Forecast Discussion
California State Weather Data
California WeatherShare Temperatures
California Hourly Weather Roundup
NWS Mesonet Observations
Drought Information Resources
Northern California Climate Summaries
NOAA's El Niño Portal
---
National Outlook
Click Here for-----> NOAA Watch - U.S. Daily Briefing
Click Here for-----> NOAA/NWS Storm Prediction Center
Click Here for-----> NOAA Watch - Headlines
Click Here for-----> NOAA - Daily Weather Maps
Severe weather possible for parts of central Plains
The NWS Storm Prediction Center is forecasting a risk of severe thunderstorms Wednesday afternoon and evening across portions of the central Plains, from northeastern Colorado into portions of southwestern Nebraska and northwestern Kansas. Large hail, damaging straight-line winds will be the main threats, though a couple of tornadoes are possible, as well.
...The flash flood threat continues for portions of the Central Plains through Thursday morning, and moves into the Midwestern states by Thursday afternoon...
...A slight risk for severe thunderstorms is possible for parts of Nebraska and Kansas on Wednesday...
Tropical moisture lifting into the Four Corners region of the Country will interact with an area of upper level energy advancing eastward across the Central Rockies. This is expected to continue to produce an expansive area of showers and thunderstorms from the Central/Southern Rockies to the Midwest on Wednesday and Thursday. The heaviest and most organized of the convective activity is expected to ride along a nearly stationary surface boundary stretched across the Central Plains and Middle Mississippi Valley. For Wednesday into Thursday, WPC has highlighted a slight risk for flash flooding across much of central and eastern Nebraska into western Iowa. In addition, SPC has also highlighted a slight risk for severe weather for southern Nebraska and Northwest Kansas. As the energy aloft ejects into the Central Plains on Thursday, and the surface front lifts slowly northward, the heavy rain and flash flood threat will move into the Middle Mississippi Valley and portions of the Upper Midwest.
Meanwhile, the eastern portion of the this boundary will move east and southward as a cold front across the Northeast, Mid-Atlantic, and Ohio Valley on Wednesday. This should produce scattered showers and storms along the front, but given the lack of upper level support, the activity should remain fairly light and mainly driven by diurnal heating. Down south, weak energy moving westward into coastal Texas will bring showers and storms to portions of the Western Gulf Coast region throughout the forecast period. While the heaviest of the rain is expected to remain offshore, a few scattered showers or thunderstorms will likely make it onshore to coastal regions of Texas and Louisiana.
Short Range Forecast Graphics available Here.
NOTE: The HPC National Forecast Map above, provides an overview of today's national weather with an emphasis on certain hazardous and significant weather. It summarizes forecasts from several NCEP Service Centers including the Storm Prediction Center (for severe thunderstorm and tornado outlooks), the National Hurricane Center (for tropical storm and hurricane forecasts), and the Hydrometeorological Prediction Center (for information concerning heavy rainfall, flooding, winter weather, and general weather). With an overlaid frontal forecast, this display serves as a great overview of the weather for the current day! The National Forecast Map is prepared twice daily at the Hydrometeorological Prediction Center.
U.S. Severe Weather Alerts Map
NWS Weather And Hazards Data Viewer
---
---
Weather History for August 28
1898

- Torrents of rain accompanied by a furious wind upset the rain gage at Fort Mohave AZ. However, water in a wash tub set out on the mesa, clear of everything, measured eight inches after the 45 minute storm. (The Weather Channel)


1911

- Saint George, GA, was deluged with 18.00 inches of rain in 24 hours to establish a state record. (The Weather Channel)


1959

- Lieutenant Colonel William Rankin bailed out of his plane at a height of 46,000 feet into a violent thunderstorm, and lived to write about the 45 minute journey (which normally would have been a thirteen minute descent). He described it as one of the most bizarre and painful experiences imaginable. (The Weather Channel)


1971

- Heavy rains from Tropical Storm Doria caused devastating floods in central and northeast New Jersey resulting in 138 million dollars damage. In southeastern Pennsylvania, high winds downed trees and power lines, and in New York City, heavy rains flooded streets and subways. (David Ludlum)


1986

- The temperature at Apalachicola, FL, dipped to 62 degrees to shatter their previous August record by four degrees, having tied their August record high of 99 degrees on the 2nd of the month. (The Weather Channel)


1987

- Severe thunderstorms broke the heat in the southeastern U.S. and the Gulf Coast Region, but not before seven cities reported record high temperatures for the date. The severe thunderstorms produced wind gusts to 80 mph downing large trees around Horse Shoe NC, and pelted southeastern Meridian MS with hail two inches in diameter. (The National Weather Summary) (Storm Data)


1988

- Tropical Storm Chris spawned a tornado near Manning, SC, which killed one person, and spawned three tornadoes in North Carolina. Chris produced one to two foot tides, and three to six inch rains, over coastal South Carolina. Severe thunderstorms in New York State and Vermont, developing ahead of a cold front, spawned a tornado which killed one person at Hector NY, produced tennis ball size hail at Brandon VT, and produced wind gusts to 80 mph at Lyndonville VT. (The National Weather Summary) (Storm Data)


1989

- Early morning thunderstorms in Nebraska produced 4.50 inches of rain around McCook, and 4.65 inches near Auburn and Brownville. Showers in Montana pushed the rainfall total for the month at Havre past the previous August record of 3.90 inches. (The National Weather Summary)


Information courtesy of weatherforyou.com
---
Star Gazers 1434 - Aug 25-31, 2014
"The Scorpion's Mad Tea Party"
For more on the Sun, Moon and the Stars, Click Here!
---
---
News of the Day
Click Here for Google California News
Click Here for More California News