Special Weather Statement - Western Plumas County/Lassen Park (California) In Effect ... [Click here for more]
For Multiple Area Watches, Warnings and Advisories issued by the NWS Sacramento,
Click Here
.
For Multiple Area Watches, Warnings or Advisories for California,
Click Here
.
Updated:

@
Summary / Temperature
Wind
Rain/Melted Snow
Cloud Level

Dry





32.2°F





Feels like:




32°F




Temp rate:


+0.6°F


24-hrs ago:


29.4°F


24-hr diff:


2.8°F

Temp:
Today
Yesterday
High:

32.2°F


3:14am
50.7°F
3:07pm
Low:

30.7°F


12:00am
29.1°F
1:08am
NWS:
High
Low
Normal:
66.2°F
33.8°F
Record:
89.6°F
21.2°F
Year:
1997
1986

NNE




0.0




Gust:

0.0

0

Bft -

Calm

60-Min Avg:
Calm
120-Min Avg:
Calm
Max Gust:

1.0 mph

1:38am

Month:
14.0 mph Nov 16

Today:

0.00 in

Yesterday:

0.00 in

Last
Rain:
11/22/2014
5:45 PM
November:

0.95 in

Last 7 Days:
0.40 in
Rain Season:1

3.52 in

Rain Days:
71 in 2014
4 days since last rain.

Barometer ( inHg)
Humidity/Dew Point
Moon

Barometer:

30.125 inHg

1-Hr Trend:

Falling slowly

3-Hr Trend:
Falling
High:

30.195

| Low:

30.125

Humidity:

81

%
Humidex:

27.2°F

Dew Point:

27.0°F

Wetbulb:

30.4°F

Waxing Crescent
29%
Illuminated

UV Forecast
Last Hour Difference

27 Nov 2014

Low

1.9
28 Nov 2014

Low

1.9
29 Nov 2014

Low

1.7

Temperature: +0.6
Humidity: -2
Barometer: -0.024

Wind Chill
Heating Degree Days
Sun

Current:

32.2°F

Today:

30.7°F

at 12:00am

Yesterday:
29.1°F
Last Week:
41.3°F
Record:
-9.0°F 13-Jan-2013

Today:
4.4
November:
665.9
2014 to Date:
4374.6
Cooling Degree Days
2014 to Date:
252.5

Daylight:
09:37
:56 Min

Almanac
Snow3
Station All Time Records
Fire Risk

| | |
| --- | --- |
| Sunrise: | 7:04am |
| Sunset: | 4:41pm |
| Moonrise: | 11:24am |
| Moonset: | 9:15pm |
| Full Moon: | 6 December 2014 |
| New Moon: | 01:36 UTC 22 December 2014 |
| Current: | Moon age: 5 days,6 hours,37 minutes,29% |

Today:
0.00 in
Yesterday:
0.00 in
November:
0.00 in
Season Total:2
0.00 in
Snow Depth:
0.00 in
0 snow day in November
0 snow day in all 2014.
Outside Now
Air Density:
1.298 kg/m3
Cloud Height:

5715 ft

HIGHS:
LOWS:
99.3°F
01-Jul-2014
-9.0°F
13-Jan-2013
Day Time Records
81.1 F on: Jul 03 2013
13.1F on: Jan 13 2013
Night Time Records
72.5F on: Jul 11 2014
1.6F on: Jan 13 2013
ICN:1 ISS:Ok CON:4.2 RCP:100%

Chandler Burning Index
Currently:
-1.0 at 03:20 AM

1 Rain season: July 1st to June 30th. 2 Snow season July 1st to June 30th. 3 Snow manually measured

NWS Weather Forecast - Overnight's and Thanksgiving Day's Outlook
Overnight


Patchy
Fog
Lo

29 °F

NWS forecast: Patchy fog. Otherwise, mostly cloudy, with a low around 29. Southwest wind around 5 mph.
Local station forecast:

Increasing clouds and warmer. precipitation possible within 12 to 24 hrs. windy.

Thanksgiving
Day

Patchy
Fog
Hi

61 °F

NWS forecast: Patchy fog before 10am. Otherwise, partly sunny, with a high near 61. South southwest wind 6 to 11 mph.
NWS Short Term Weather Forecast
Thanksgiving
Day

Patchy
Fog
Hi

61 °F

Thursday
Night

Partly
Cloudy
Lo

29 °F

Friday


Chance
Rain
Hi

53 °F

Friday
Night

Rain

Lo

29 °F

Saturday


Rain

Hi

41 °F

Saturday
Night

Showers

Lo

29 °F

Sunday


Rain
Likely
Hi

40 °F

Sunday
Night

Rain

Lo

28 °F
Chester, CA Forecast en Español
NWS Hourly Weather Graph For Chester, CA The Next 48 Hours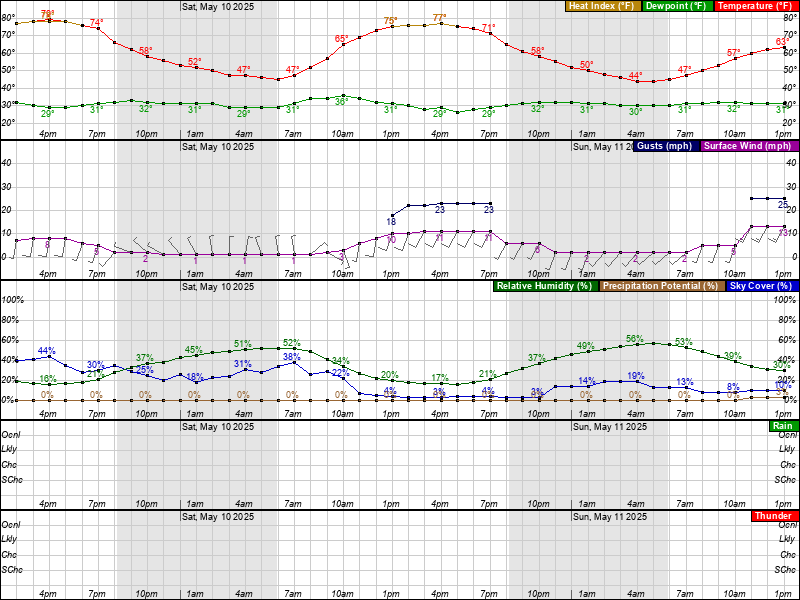 Meteogram courtesy of NOAA-National Weather Service
---
SAC - National Weather Service On Facebook
RENO - National Weather Service On Facebook


Please Donate to help maintain the operation of this Weather Station!
This weather site is a hobby and involves a considerable expenditure of time and money. Your contribution will help continue operation and maintenance of this weather station! You can use the donate button below to make a secure donation with PayPal. No amount is too small. Donations can also be made securely using any of the major credit cards.
If you find the Chester/Lake Almanor Weather Website useful to you, please consider making a small donation to help offset the routine expenses of operation of this website.
Thanks for your kind support!
---
Today's Weather Story
Strong high pressure will continue dry and mild weather across the region through at least Thanksgiving. A cooler and wetter weather pattern is forecast to develop across NorCal over the weekend.
We've taken a look at the latest forecast models and details for the upcoming storm have changed a bit since our last update. Wet weather is still on the way but timing has slowed down. The first system will arrive for the weekend with light to moderate precipitation and light snow accumulations above 6000-7000 feet. A stronger and wetter system with breezy winds will arrive later Monday into Wednesday (slower than previous forecast of Sunday-Monday) with substantial rainfall still possible. Snow levels will drop to 5000-6000 feet with moderate accumulations possible at higher elevations. Slick roads may lead to travel impacts. This forecast is subject to change so please check back for updates and follow the conversation on social media using #LeftOversWx.
Traveling for the holidays? There's now a way to get a customized travel forecast along your route! Go to http://preview.weather.gov/edd and click on the road sign to get started! You can choose your departure location and destination as well as the date/time of your trip. This will give you a detailed forecast at points along the way as well as any weather hazards you may encounter. A mobile version is available at that web address as well.
---
Useful Weather Links
Area Forecast Discussion
California State Weather Data
California WeatherShare Temperatures
California Hourly Weather Roundup
NWS Mesonet Observations
Precipitation Information Resources
Drought Information Resources
Northern California Climate Summaries
NOAA's El Niño Portal
---
National Outlook
Click Here for-----> NOAA Watch - U.S. Daily Briefing
Click Here for-----> NOAA/NWS Storm Prediction Center
Click Here for-----> NOAA Watch - Headlines
Click Here for-----> NOAA - Daily Weather Maps
Nor'easter to continue impacting Northeast through Thanksgiving
A nor'easter making its way up the East Coast will bring widespread precipitation from Florida to Maine on Wednesday into Thursday, which could significantly impact Thanksgiving travel across the region. Rain is expected closer to the coast, with snow falling inland and at higher elevations, especially across the central Appalachians, Northeast and New England.
...Heavy rain over parts of the Pacific Northwest...
...Snow over Northern New England...
...Temperatures will be 10 to 20 degrees above average over parts of the Central Rockies and the Great Basin...
A storm just off the Northeast Coast will move northeastward to off of Eastern Canada by Friday morning. The system will produce moderate wet snow over parts of the Northeast that will tapper off to light snow over Northern New England by Thanksgiving morning, Thursday and end by Thursday evening. Moderate to heavy rain will develop along the Mid-Atlantic/New England Coastline ending late Wednesday night.
Meanwhile, a front extending from the Western Ohio Valley to the Southern Plains will move quickly off the Southeast Coast by Thursday evening, Thanksgiving. The storm will produce light snow over parts of the Great Lakes through Thursday evening. Light snow will also develop over parts of the Middle Mississippi Valley that will move to parts of the Central Appalachians by Thursday evening. Rain will also develop over parts of the Ohio Valley and move to Western North Carolina by Thursday morning.
A persistent boundary extending from the Central High Plains northwestward to British Columbia will aid in focusing precipitation from parts of the Northwest to the Northern High Plains. A weakening front will move into the Pacific Northwest on Thursday morning, Thanksgiving, and dissipate. The system will bring light to moderate rain to the Northwest Coast and parts of Northern California through Friday morning. Rain and highest elevation snow will develop over parts of the Northern Rockies/Northern Intermountain Region through Friday. In addition, snow will develop over parts of the Northern High Plains through Thursday afternoon. Upper-level jet dynamics will aid in producing light snow over parts of the Northern Plains into the Upper Great Lakes Thursday evening into Friday morning. Additionally, a pocket of rain/freezing rain will develop over parts of the Northern High Plains on Thursday morning, Thanksgiving.
Short Range Forecast Graphic available Here.
NOTE: The HPC National Forecast Map above, provides an overview of today's national weather with an emphasis on certain hazardous and significant weather. It summarizes forecasts from several NCEP Service Centers including the Storm Prediction Center (for severe thunderstorm and tornado outlooks), the National Hurricane Center (for tropical storm and hurricane forecasts), and the Hydrometeorological Prediction Center (for information concerning heavy rainfall, flooding, winter weather, and general weather). With an overlaid frontal forecast, this display serves as a great overview of the weather for the current day! The National Forecast Map is prepared twice daily at the Hydrometeorological Prediction Center.
U.S. Severe Weather Alerts Map
NWS Weather And Hazards Data Viewer
---
---
Weather History for November 27
1883

- Fire engines were called out in New York City and New Haven, CT, as a result of the afterglow of the sunset due to vivid red ash from the Krakatoa Volcano explosion in August. (The Weather Channel)


1898

- The Portland storm raged across New England producing gale force winds along the coast and heavy snow inland. A foot of snow blanketed Boston MA, and 27 inches fell at New London CT. Winds at Boston gusted to 72 mph, and wind gusts to 98 mph were estimated at Block Island RI. A passenger ship, the S. S. Portland, sank off Cape Cod with the loss of all 191 persons aboard, and Boston Harbor was filled with wrecked ships. The storm wrecked 56 vessels resulting in a total of 456 casualties. (26th- 28th) (David Ludlum) (The Weather Channel)


1987

- Wet weather prevailed across much of the nation east of the Rockies. Sunny and cool weather prevailed in the western U.S. Snow fell in the central U.S., with totals in Kansas ranging up to six inches at Burr Oak. Much of the area from central Oklahoma to southwestern Minnesota experienced its first snow of the winter season. (The National Weather Summary)


1988

- Snow and high winds created blizzard conditions in Minnesota. Winds gusted to 63 mph at Windom, and snowfall totals ranged up to 14 inches at Aitkin. Snow drifts seven feet high closed many roads. Fargo ND reported a wind chill reading of 34 degrees below zero. (The National Weather Summary) (Storm Data)


1989

- A storm system crossing the north central U.S. spread snow across the Dakotas and Minnesota. Heavy snow fell in western South Dakota, with 18 inches reported at Galena. Strong winds associated with the storm gusted to 50 mph in the Great Lakes Region and the Great Plains, with blowing dust reported in Kansas. Thunderstorms associated with the same storm system produced damaging winds in Michigan, Ohio and Indiana during the evening, with gusts to 73 mph reported east of Ypsilante MI. Unseasonably warm weather prevailed ahead of the cold front. Twenty-three cities from the Gulf coast to the Ohio Valley and the Mid Mississippi Valley reported record high temperatures for the date, including Saint Louis MO with a reading of 76 degrees. (The National Weather Summary) (Storm Data)


2005

- A major winter storm affected parts of Nebraska and the Dakotas during the 27th-28th. Snowfall accumulations of 16-20 inches were observed in parts of eastern South Dakota, while wind gusts exceeding 60 mph also accompanied the snow, creating blizzard conditions. Thousands of power outages were caused by the combination of strong winds and heavy snow. In South Dakota, about 8,000 utility poles and 10,000 miles of transmission line were brought down by the storm (Associated Press).


Information courtesy of weatherforyou.com
---
Scientists monitoring 'intense' earthquake swarm
A USGS map shows an intensifying swarm of earthquakes in a sparsely populated region in the Nevada desert near Oregon and California. (USGS)
Scientists in Oregon, Washington and Nevada released an update Wednesday about an intense earthquake swarm occurring 40 miles southeast of Lakeview, Oregon.
According to the Oregon Department of Geology and Mineral Industries (DOGAMI), the swarm in northwestern Nevada along Oregon's border has been ongoing since mid-July and has become much more active in the past few days.
A magnitude 4.6 earthquake occurred at 11:23 p.m. Tuesday night, with magnitude 3-plus events throughout Wednesday, the DOGAMI said. Three magnitude 4-plus earthquakes have occurred since Oct. 30.
In the past three months, the DOGAMI said there have been 42 earthquakes greater than magnitude 3.
Such a sequence of earthquakes does slightly increase the probability that a larger earthquake will occur, according to the DOGAMI. The current swarm resembles a 1968 swarm in Adel, Oregon, which lasted several months and included three earthquakes of approximately magnitude 5.
The DOGAMI said exactly when earthquakes will occur can't be predicted, so being prepared is critical.
"Earthquakes can happen anytime," said Oregon State Geologist Vicki S. McConnell in a press release. "Planning and preparing now helps you be ready."
The swarm is being monitored closely by the DOGAMI, the Nevada Seismological Laboratory at the University of Nevada Reno, the Pacific Northwest Seismic Network at the University of Washington and the U.S. Geological Survey.
Real-time information on this swarm is available at www.seismo.unr.edu and earthquake.usgs.gov/earthquakes/map/.
Earthquake Swarm near Lassen Volcanic Center
November 12, 2014 CalVO is tracking an earthquake swarm that began on November 9 located at the Tehama County-Plumas County border within Lassen National Forest. The swarm is about 24 km WNW of the town of Chester and about 1 mile south of the Lassen Volcanic National Park boundary near the Twin Meadows Trail at Patricia Lake.
Since the start of the swarm about 80 earthquakes at or above magnitude M1.0 have been detected. A magnitude M3.86 earthquake at about 12:30 AM Nov 11 was the largest event to date. Preliminary analysis suggests that the earthquakes are related to regional fault motions along the northwest margin of the Walker Lane fault system. Ground deformation indicative of volcanic unrest has not been detected by nearby GPS receivers. Although the swarm poses no immediate threat, the CalVO will continue monitoring earthquake activity and keep in close communication with Lassen Volcanic National Park to learn of any changes in the Park's hydrothermal features.
For the latest update from the California Volcano Observatory from the USGS Click Here
For a recent earthquake map for our area, Click Here
---
Star Gazers 1447 - Nov 24-30, 2014
"Perfectly Positioned Polygons"
For more on the Sun, Moon and the Stars, Click Here!
---
---
News of the Day
Click Here for Google California News
Click Here for More California News