For Multiple Area Watches, Warnings and Advisories issued by the NWS Sacramento,
Click Here
.
For Multiple Area Watches, Warnings or Advisories for California,
Click Here
.
Updated:

@
Summary / Temperature
Wind
Rain/Melted Snow
Cloud Level

Dry





63.5°F





Feels like:




64°F




Temp rate:


-4.4°F


24-hrs ago:


63.1°F


24-hr diff:


0.4°F

Temp:
Today
Yesterday
High:

92.1°F


3:28pm
86.3°F
1:01pm
Low:

47.0°F


6:19am
49.5°F
7:01am
NWS:
High
Low
Normal:
66.2°F
33.8°F
Record:
89.6°F
21.2°F
Year:
1997
1986

S




0.0




Gust:

0.0

0

Bft -

Calm

60-Min Avg:
Calm
120-Min Avg:
Calm
Max Gust:

5.0 mph

4:08pm

Month:
19.0 mph Jul 3

Today:

0.00 in

Yesterday:

0.00 in

Last
Rain:
7/21/2015
1:23 PM
July:

2.39 in

Last 7 Days:
0.00 in
Rain Season:1

2.39 in

Rain Days:
45 in 2015
7 days since last rain.

Barometer ( inHg)
Humidity/Dew Point
Moon

Barometer:

29.800 inHg

1-Hr Trend:

Steady

3-Hr Trend:
Steady
High:

29.866

| Low:

29.715

Humidity:

31

%
Humidex:

59.7°F

Dew Point:

32.3°F

Wetbulb:

49.9°F

Waxing Gibbous
98%
Illuminated

UV Forecast
Last Hour Difference

30 Jul 2015

Very High

9.6
31 Jul 2015

Very High

9.1
1 Aug 2015

Very High

9.3

Temperature: -4.4
Humidity: + 4
Barometer: +0.028

Wind Chill
Heating Degree Days
Sun

Current:

63.5°F

Today:

47.0°F

at 6:19am

Yesterday:
49.5°F
Last Week:
57.1°F
Record:
-9.0°F 13-Jan-2013

Today:
6.3
July:
50.0
2015 to Date:
3350.1
Cooling Degree Days
2015 to Date:
159.6

Daylight:
14:22
:57 Min

Almanac
Snow3
Station All Time Records
Fire Risk

| | |
| --- | --- |
| Sunrise: | 6:00am |
| Sunset: | 8:22pm |
| Moonrise: | 6:58pm |
| Moonset: | 5:16am |
| Full Moon: | 31 July 2015 |
| New Moon: | 14:54 UTC 14 August 2015 |
| Current: | Moon age: 13 days,10 hours,27 minutes,98% |

Today:
0.00 in
Yesterday:
0.00 in
July:
0.00 in
Season Total:2
0.00 in
Snow Depth:
0.00 in
0 snow day in July
0 snow day in all 2015.
Outside Now
Air Density:
1.207 kg/m3
Cloud Height:

11672 ft

HIGHS:
LOWS:
99.3°F
01-Jul-2014
-9.0°F
13-Jan-2013
Day Time Records
82.8 F on: Jun 25 2015
13.1F on: Jan 13 2013
Night Time Records
72.5F on: Jul 11 2014
1.6F on: Jan 13 2013
ICN:1 ISS:Ok CON:4.2 RCP:98%

Chandler Burning Index
Currently:
53.5 at 11:00 PM

1 Rain season: July 1st to June 30th. 2 Snow season July 1st to June 30th. 3 Snow manually measured

NWS Weather Forecast - Tonight's and Thursday's Outlook
Tonight


Clear

Lo

58 °F

NWS forecast: Clear, with a low around 58. Light north northeast wind.
Local station forecast:

Mostly cloudy and cooler. precipitation possible within 12 hours, possibly heavy at times. windy.

Thursday


Hot

Hi

96 °F

NWS forecast: Sunny and hot, with a high near 96. Light and variable wind becoming south southeast 5 to 7 mph in the afternoon.
NWS Short Term Weather Forecast
Thursday


Hot

Hi

96 °F

Thursday
Night

Mostly Clear

Lo

58 °F

Friday


Mostly Sunny

Hi

95 °F

Friday
Night

Mostly Cloudy

Lo

58 °F

Saturday


Mostly Sunny

Hi

91 °F

Saturday
Night

Partly Cloudy

Lo

57 °F

Sunday


Mostly Sunny

Hi

90 °F

Sunday
Night

Partly Cloudy

Lo

56 °F
Chester, CA Forecast en Español
NWS Hourly Weather Graph For Chester, CA The Next 48 Hours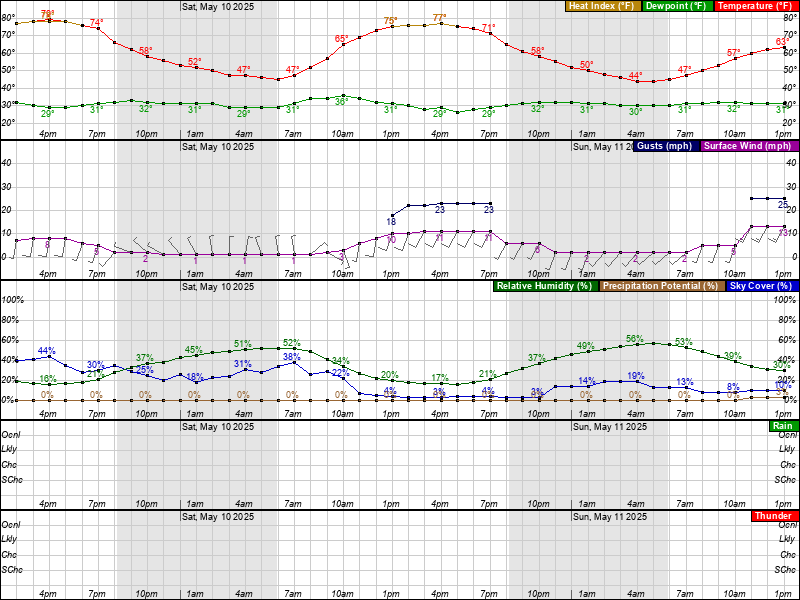 Meteogram courtesy of NOAA-National Weather Service
---
SAC - National Weather Service On Facebook
RENO - National Weather Service On Facebook


Please Donate to help maintain the operation of this Weather Station!
This weather site is a hobby and involves a considerable expenditure of time and money. Your contribution will help continue operation and maintenance of this weather station! You can use the donate button below to make a secure donation with PayPal. No amount is too small. Donations can also be made securely using any of the major credit cards.
If you find the Chester/Lake Almanor Weather Website useful to you, please consider making a small donation to help offset the routine expenses of operation of this website.
Thanks for your kind support!
---
Today's Weather Story
Hot temperatures have returned to northern California. Daytime highs today and Thursday are likely to hit record highs for the date in some locations. If in the heat over the next few days, remember to follow the heat safety rules.
Summer Season Weather Safety Website
Heat is here, but you can get prepared and #BeatTheHeat. On the map, check to see if you're in a red area. If you are, here's what you need to know. Heat-related impacts are likely if precautions are not taken. Heat events like this happen only a few times a year, and some people in the area won't have had previous experience with dangerous heat like this. Sensitive groups (e.g. elderly and very young) will need assistance to avoid heat-related illness and should be helped to prepare and checked on frequently. And as always, never, ever leave a child or pet in an enclosed automobile.
Hot weather for interior of northern California this week! Be prepared! Mountain thunderstorms Friday through Monday will bring a threat of new fire starts.
---
Useful Weather Links
Area Forecast Discussion
California State Weather Data
California WeatherShare Temperatures
California Hourly Weather Roundup
NWS Mesonet Observations
Precipitation Information Resources
Drought Information Resources
Northern California Climate Summaries
NOAA's El Niño Portal
---
National Outlook
Click Here for-----> NOAA Watch - U.S. Daily Briefing
Click Here for-----> NOAA/NWS Storm Prediction Center
Click Here for-----> NOAA Watch - Headlines
Click Here for-----> NOAA - Daily Weather Maps
Severe storms possible in Midwest
Isolated Severe Thunderstorms Will Continue
Isolated severe thunderstorms will continue from Minnesota to southwestern Kansas and vicinity. Within that swath, the most probable area for greater concentrations of severe weather is from eastern Nebraska across parts of Iowa. A marginal risk for severe thunderstorms also exists over eastern New England.
...Hot and humid weather to continue over areas of the southern U.S.
...Flash flooding possible over areas of New Mexico and the Texas/Oklahoma panhandles through Thursday morning...
...Above normal temperatures to prevail across the western U.S...
The upper pattern across the country will feature a broad ridge extending from the Southern Plains toward the Deep South. To the north, a high amplitude and progressive jet structure will help carve a trough over eastern Canada toward the end of the week. Meanwhile, ridging will begin to extend over a vast majority of the western states supporting above normal temperatures.
Underneath the aforementioned ridge across the southern sector of the U.S., hot and humid conditions will continue. Local forecast offices have placed an expansive region from eastern Oklahoma across the Lower Mississippi valley and into the Mid/Deep South in heat advisories and excessive heat warnings. Expect heat indices to locally exceed 105 degrees in some of the previously mentioned areas.
To the west of this ridge, a series of mid-level disturbances will track through the Desert Southwest and Four Corners region. These features combined with sufficient moisture and diurnal heating will support a broad area of convection. In particular, a more focused area of thunderstorms moving through northeastern New Mexico this evening may cause rainfall heavy enough to produce flash flooding. This threat will gradually shift eastward toward the Texas/Oklahoma panhandles into the overnight hours.
The other region of active weather will be along and ahead of a rather pronounced cold front currently sweeping through the Upper Great Lakes. While the boundary should weaken in time as the better upper support lifts into Canada, expect showers and thunderstorms to accompany frontal passage. It appears this will occur by around Thursday evening along the I-95 corridor. Overall, the heaviest rainfall looks to be along the eastern Gulf Coast where a mid-level impulse is expected to sink southward from the Lower Tennessee valley toward the Gulf Coast. WPC is currently highlighting a broad area of 1 to 2 inches of precipitation over this area through Friday morning.
Elsewhere, a building ridge along the West Coast will maintain hot conditions through at least Friday. Temperature anomalies of 10 to 15 degrees above normal will support highs reaching the century mark. In fact, temperatures should hit the 105 to 110 degree range over the interior valley locales of California and Oregon on Thursday.
Short Range Forecast Graphic available Here.
NOTE: The HPC National Forecast Map above, provides an overview of today's national weather with an emphasis on certain hazardous and significant weather. It summarizes forecasts from several NCEP Service Centers including the Storm Prediction Center (for severe thunderstorm and tornado outlooks), the National Hurricane Center (for tropical storm and hurricane forecasts), and the Hydrometeorological Prediction Center (for information concerning heavy rainfall, flooding, winter weather, and general weather). With an overlaid frontal forecast, this display serves as a great overview of the weather for the current day! The National Forecast Map is prepared twice daily at the Hydrometeorological Prediction Center.
U.S. Severe Weather Alerts Map
NWS Weather And Hazards Data Viewer
---
---
Weather History for July 29
1898

- The temperature at Prineville, OR, soared to 119 degrees to establish a state record, which was tied on the 10th of August at Pendleton. (The Weather Channel)


1905

- Heavy rain in southwestern Connecticut caused a dam break, and the resulting flood caused a quarter of a million dollars damage at Bridgeport. As much as eleven inches of rain fell prior to the flood. (David Ludlum)


1981

- Fifty cattle, each weighing 800 pounds, were killed by lightning near Vance, AL. The lightning struck a tree and then spread along the ground killing the cattle. (The Weather Channel)


1987

- Thunderstorms produced severe weather from Minnesota to Indiana and Illinois. A thunderstorm at Janesville, WI, produced wind gusts to 104 mph which flipped over two airplanes, and blew another plane 300 feet down the runway. The northeastern U.S. experienced some relief from the heat. Nine cities reported record low temperatures for the date, including Saint Johnsbury, VT, with a reading of 42 degrees. Barnet, VT, reported a morning low of 33 degrees, with frost reported on vegetation. (Storm Data) (The National Weather Summary)


1988

- Afternoon and evening thunderstorms produced severe weather in Minnesota and Wisconsin. Hail three inches in diameter was reported south of Saint Cloud, MN. Hot weather prevailed in the western U.S. Fresno, CA reported a record thirteen straight days of 100 degree heat. (Storm Data) (The National Weather Summary)


1989

- Morning thunderstorms in the Upper Midwest produced more than five inches of rain west of Virgil, SD. Afternoon and evening thunderstorms deluged the foothills and adjacent plains of Colorado with heavy rain. Rains of six to seven and a half inches fell in eight hours north of Greeley. Hail and heavy rain caused several million dollars damage in Weld County. (Storm Data) (The National Weather Summary)


Information courtesy of weatherforyou.com
---
Star Gazers 1530 - July 27 - August 2, 2015
"Plan Now For The Perseid Meteor Shower"
For more on the Sun, Moon and the Stars, Click Here!
---
---
News of the Day
Click Here for Google California News
Click Here for More California News