There are no active watches, warnings or advisories for zone CAZ068.
For Multiple Area Watches, Warnings and Advisories issued by the NWS Sacramento,
Click Here
.
For Multiple Area Watches, Warnings or Advisories for California,
Click Here
.
Updated:

@
Summary / Temperature
Wind
Rain/Melted Snow
Cloud Level

Dry





43.5°F





Feels like:




43°F




Temp rate:


-4.5°F


24-hrs ago:


46.8°F


24-hr diff:


-3.3°F

Temp:
Today
Yesterday
High:

50.8°F


1:11pm
45.7°F
12:32am
Low:

30.9°F


5:35am
30.9°F
11:04pm
NWS:
High
Low
Normal:
66.2°F
33.8°F
Record:
89.6°F
21.2°F
Year:
1997
1986

NNE




0.0




Gust:

0.0

0

Bft -

Calm

60-Min Avg:
Calm
120-Min Avg:
Calm
Max Gust:

6.0 mph

11:15am

Month:
17.0 mph Mar 5

Today:

0.01 in

Rate (/hr):

0.01 in

Yesterday:

0.16 in

March:

1.58 in

Last 7 Days:
2.11 in
Rain Season:1

7.15 in

Rain Days:
23 in 2014
7 rain days in March

Barometer ( inHg)
Humidity/Dew Point
Moon

Barometer:

30.088 inHg

1-Hr Trend:

Rising

3-Hr Trend:
Steady
High:

30.160

| Low:

30.031

Humidity:

63

%
Humidex:

39.5°F

Dew Point:

31.7°F

Wetbulb:

39.1°F

Waxing Crescent
46%
Illuminated

UV Forecast
Last Hour Difference

8 Mar 2014

Medium

5.0
9 Mar 2014

Medium

4.8
10 Mar 2014

Medium

3.7

Temperature: -4.5
Humidity: + 8
Barometer: +0.041

Wind Chill
Heating Degree Days
Sun

Current:

43.5°F

Today:

30.9°F

at 5:35am

Yesterday:
30.9°F
Last Week:
36.2°F
Record:
-9.0°F 13-Jan-2013

Today:
11.1
March:
161.6
2014 to Date:
1424.1
Cooling Degree Days
2014 to Date:
0.0

Daylight:
11:36
:07 Min

Almanac
Snow3
Station All Time Records
Fire Risk

| | |
| --- | --- |
| Sunrise: | 6:27am |
| Sunset: | 6:03pm |
| Moonrise: | 11:16am |
| Moonset: | 1:06am |
| Full Moon: | 16 March 2014 |
| New Moon: | 18:45 UTC 30 March 2014 |
| Current: | Moon age: 6 days,23 hours,2 minutes,46% |

Today:
0.00 in
Yesterday:
0.00 in
March:
0.00 in
Season Total:2
0.00 in
Snow Depth:
0.00 in
0 snow day in March
0 snow day in all 2014.
Outside Now
Air Density:
1.267 kg/m3
Cloud Height:

7043 ft

HIGHS:
LOWS:
96.3°F
02-Jul-2013
-9.0°F
13-Jan-2013
Day Time Records
81.1 F on: Jul 03 2013
13.1F on: Jan 13 2013
Night Time Records
70.9F on: Jul 25 2010
1.6F on: Jan 13 2013
ICN:0 ISS:Ok CON:4.2 RCP:99%

Chandler Burning Index
Currently:
5.1 at 6:25 PM

1 Rain season: July 1st to June 30th. 2 Snow season July 1st to June 30th. 3 Snow manually measured

NWS Weather Forecast - Tonight's and Saturday's Outlook
Tonight


Mostly
Clear
Lo

30 °F

NWS forecast: Mostly clear, with a low around 30. East wind around 7 mph.
Local station forecast:

Increasing clouds with little temp. change. precipitation possible within 24 to 48 hrs.

Saturday


Mostly
Sunny
Hi

63 °F

NWS forecast: Mostly sunny, with a high near 63. Light and variable wind becoming south southwest 5 to 8 mph in the afternoon.
NWS Short Term Weather Forecast
Saturday


Mostly
Sunny
Hi

63 °F

Saturday
Night

Chance
Rain
Lo

36 °F

Sunday


Rain
Likely
Hi

52 °F

Sunday
Night

Rain

Lo

35 °F

Monday


Showers
Likely
Hi

51 °F

Monday
Night

Slight Chc
Showers
Lo

29 °F

Tuesday


Sunny

Hi

54 °F

Tuesday
Night

Mostly
Clear
Lo

30 °F
Chester, CA Forecast en Español
NWS Hourly Weather Graph For Chester, CA The Next 48 Hours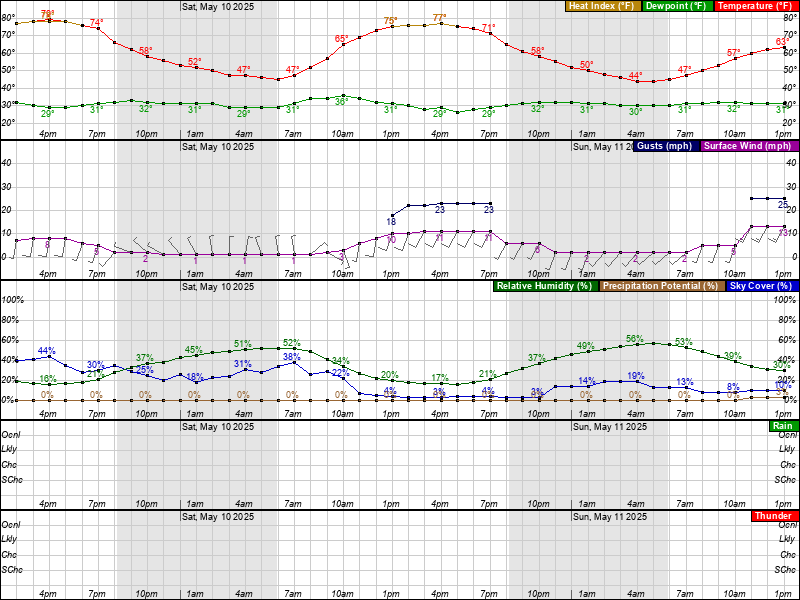 Meteogram courtesy of NOAA-National Weather Service
---
SAC - National Weather Service On Facebook
RENO - National Weather Service On Facebook


Please Donate to help maintain the operation of this Weather Station!
This weather site is a hobby and involves a considerable expenditure of time and money. Your contribution will help continue operation and maintenance of this weather station! You can use the donate button below to make a secure donation with PayPal. No amount is too small. Donations can also be made securely using any of the major credit cards.
If you find the Chester/Lake Almanor Weather Website useful to you, please consider making a small donation to help offset the routine expenses of operation of this website.
Thanks for your kind support!
---
Today's Weather Story
After quiet and mild weather Friday and Saturday, another Pacific moisture stream will bring precipitation to NorCal by late Sunday (especially for areas north of I-80). With warm air in place, snow levels will be mostly above passes. Models are trending wetter, so stay tuned.
The 5 gallon bucket represents the Northern Sierra 8 station precipitation index normal precipitation for 2014 (50.0 inches) plus the deficits from 2011-2012 (8.4 below) and 2012-2013 (5.7 below) for a total of 64.1 inches. The blue shading is what we've received so far in the 2014 Water Year (18.4 inches); which is the gallon milk jug plus the 32 oz water bottle. In February we received the equivalent of the gallon milk jug (13" of precipitation for the 8 station). The Water bottle represents the 5.4" the 8 station index received from October 1st -Jan 31st.
---
Area Forecast Discussion
California State Weather Data
California WeatherShare Temperatures
California Hourly Weather Roundup
NWS Mesonet Observations
Drought Information Resources
---
National Outlook
Click Here for-----> NOAA Watch - U.S. Daily Briefing
Click Here for-----> NOAA Watch - Headlines
Click Here for-----> NOAA - Daily Weather Maps
...Coastal storm will continue to impact the southern to central Mid-Atlantic states on Friday...
...Another shot of arctic air expected behind a cold front dropping out of the north central U.S. on Friday...
A surface low will continue to deepen while it steadily tracks up the Carolina coast on Friday. Plenty of Atlantic moisture getting wrapped into the storm will fuel widespread precipitation across the southern and central Mid-Atlantic states. The majority of precipitation will fall as rain...but enough cold air initially in place will allow for a mix of snow and freezing rain within the northwestern fringe of the precipitation shield. The intensifying coastal low will begin to track away from the coast and out into Atlantic Friday evening...and locations across the northern Mid-Atlantic region and Northeast should see minimal impacts from this event.
A strong surface high sinking down from western Canada will bring yet another shot of arctic air into the north central U.S. on Friday. Snow showers will be possible with the leading cold front as it pushes from the Upper Midwest to the Lower Great Lakes...but a lack of moisture along the boundary should keep precipitation light.
Energy amplifying aloft combined with upslope flow will force moderate snows across the Central Rockies Friday into Saturday morning. As some of the energy ejects eastward on Saturday...light precipitation should begin breaking out across the Southern to Central Plains.
The Pacific Northwest will get a break from the recent widespread shower activity across the region as an upper ridge builds in aloft on Friday. However...an approaching Pacific storm should bring precipitation back into the northwestern corner of the Nation by late Saturday.
NOTE: The HPC National Forecast Map above, provides an overview of today's national weather with an emphasis on certain hazardous and significant weather. It summarizes forecasts from several NCEP Service Centers including the Storm Prediction Center (for severe thunderstorm and tornado outlooks), the National Hurricane Center (for tropical storm and hurricane forecasts), and the Hydrometeorological Prediction Center (for information concerning heavy rainfall, flooding, winter weather, and general weather). With an overlaid frontal forecast, this display serves as a great overview of the weather for the current day! The National Forecast Map is prepared twice daily at the Hydrometeorological Prediction Center.
U.S. Severe Weather Alerts Map
NWS Weather And Hazards Data Viewer
---
---
Weather History for March 7
1717

- The Great Snow, a composite of four winter storms to hit the eastern U.S. in nine days, finally came to an end. Snow depths averaged 60 inches following the storm. Up to four feet of snow fell around Boston MA, and snow drifts 25 feet high were reported around Dorchester MA. (David Ludlum) (The Weather Channel)


1932

- A severe coastal storm set barometric pressure records from Virginia to New England. Block Island RI reported a barometric pressure reading of 28.20 inches. (David Ludlum)


1987

- Forty-five cities in the north central and northeastern U.S. reported record high temperatures for the date. Huron SD hit 80 degrees, and Pickstown SD reached 81 degrees. Rochester MN and Rockford IL smashed their previous record for the date by sixteen degrees. (The National Weather Summary)


1988

- High winds along a sharp cold front ushered snow and arctic cold into the Central Rocky Mountain Region and the Northern Plains. Snowfall totals in Utah ranged up to sixteen inches at Brighton. Winds gusted to 66 mph at Rapid City SD. (The National Weather Summary) (Storm Data)


1989

- Blustery northwest winds ushered arctic cold into eastern U.S. Burlington VT reported a record low of 14 degrees below zero. Snow and ice over the Carolinas replaced the 80 degree weather of the previous day. High winds and heavy surf caused five million dollars damage along the North Carolina coast. (The National Weather Summary) (Storm Data)


1990

- A major ice storm left much of Iowa under a thick coat of ice. It was the worst ice storm in at least twenty-five years for Iowa, perhaps the worst of the century. Up to two inches of ice coated much of western and central Iowa, with three inches reported in Crawford County and Carroll County. As much as five inches of ice was reported on some electrical lines. The ice downed 78 towers in a 17-mile stretch of a high voltage feeder near Boone costing three electric utilities fifteen million dollars. Damage to trees was incredible, and clean-up costs alone ran into the millions. Total damage from the storm was more than fifty million dollars. (Storm Data)


Information courtesy of weatherforyou.com
---
Star Gazers 1409 - March 3-9, 2014
"In Like A Lion, Out Like A Lamb"
For more on the Sun, Moon and the Stars, Click Here!
---
---
News of the Day
Click Here for Google California News
Click Here for More California News