For Multiple Area Watches, Warnings and Advisories issued by the NWS Sacramento,
Click Here
.
For Multiple Area Watches, Warnings or Advisories for California,
Click Here
.
Updated:

@
Summary / Temperature
Wind
Rain/Melted Snow
Cloud Level

Dry





36.9°F





Feels like:




37°F




Temp rate:


+2.7°F


24-hrs ago:


29.3°F


24-hr diff:


7.6°F

Temp:
Today
Yesterday
High:

42.1°F


12:00am
68.3°F
4:39pm
Low:

34.0°F


6:50am
27.6°F
6:39am
NWS:
High
Low
Normal:
66.2°F
33.8°F
Record:
89.6°F
21.2°F
Year:
1997
1986

NNE




0.0




Gust:

0.0

0

Bft -

Calm

60-Min Avg:
Calm
120-Min Avg:
Calm
Max Gust:

0.0 mph

2:56pm

Month:
14.0 mph Apr 1

Today:

0.00 in

Yesterday:

0.00 in

Last
Rain:
4/14/2015
1:44 AM
April:

0.24 in

Last 7 Days:
0.01 in
Rain Season:1

15.71 in

Rain Days:
23 in 2015
4 days since last rain.

Barometer ( inHg)
Humidity/Dew Point
Moon

Barometer:

29.938 inHg

1-Hr Trend:

Steady

3-Hr Trend:
Rising
High:

29.952

| Low:

29.879

Humidity:

80

%
Humidex:

32.8°F

Dew Point:

31.3°F

Wetbulb:

34.9°F

New Moon
0%
Illuminated

UV Forecast
Last Hour Difference

18 Apr 2015

High

7.3
19 Apr 2015

High

6.9
20 Apr 2015

High

7.0

Temperature: +2.7
Humidity: + 4
Barometer: +0.026

Wind Chill
Heating Degree Days
Sun

Current:

36.9°F

Today:

34.0°F

at 6:50am

Yesterday:
27.6°F
Last Week:
35.1°F
Record:
-9.0°F 13-Jan-2013

Today:
8.5
April:
415.4
2015 to Date:
2681.5
Cooling Degree Days
2015 to Date:
0.0

Daylight:
13:23
:04 Min

Almanac
Snow3
Station All Time Records
Fire Risk

| | |
| --- | --- |
| Sunrise: | 6:22am |
| Sunset: | 7:45pm |
| Moonrise: | 6:25am |
| Moonset: | 6:43pm |
| Full Moon: | 4 April 2015 |
| New Moon: | 18:57 UTC 18 April 2015 |
| Current: | Moon age: 29 days,8 hours,15 minutes,0% |

Today:
0.00 in
Yesterday:
0.00 in
April:
0.00 in
Season Total:2
0.00 in
Snow Depth:
0.00 in
0 snow day in April
0 snow day in all 2015.
Outside Now
Air Density:
1.277 kg/m3
Cloud Height:

5810 ft

HIGHS:
LOWS:
99.3°F
01-Jul-2014
-9.0°F
13-Jan-2013
Day Time Records
81.1 F on: Jul 03 2013
13.1F on: Jan 13 2013
Night Time Records
72.5F on: Jul 11 2014
1.6F on: Jan 13 2013
ICN:0 ISS:Ok CON:4.2 RCP:98%

Chandler Burning Index
Currently:
-0.6 at 08:00 AM

1 Rain season: July 1st to June 30th. 2 Snow season July 1st to June 30th. 3 Snow manually measured

NWS Weather Forecast - 's and 's Outlook


NWS forecast:
Local station forecast:

Increasing clouds with little temp. change.



NWS forecast:
NWS Short Term Weather Forecast

Chester, CA Forecast en Español
NWS Hourly Weather Graph For Chester, CA The Next 48 Hours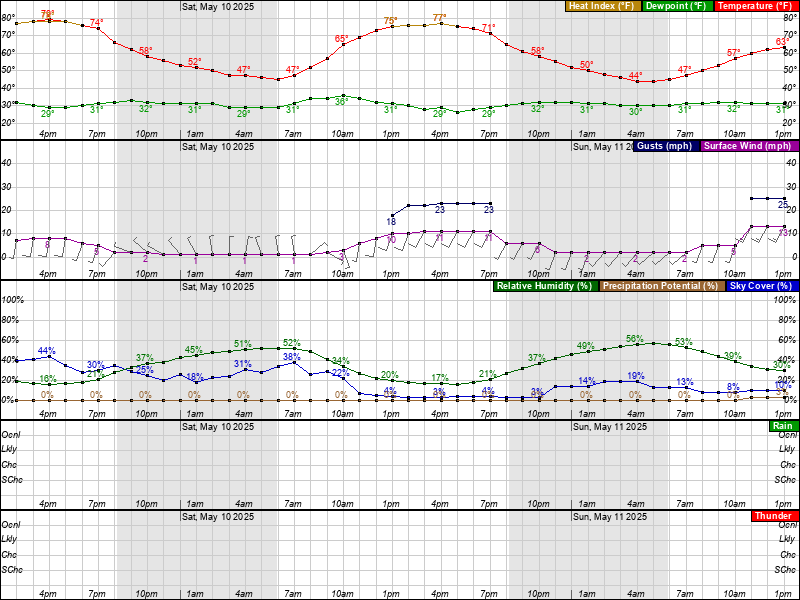 Meteogram courtesy of NOAA-National Weather Service
---
SAC - National Weather Service On Facebook
RENO - National Weather Service On Facebook


Please Donate to help maintain the operation of this Weather Station!
This weather site is a hobby and involves a considerable expenditure of time and money. Your contribution will help continue operation and maintenance of this weather station! You can use the donate button below to make a secure donation with PayPal. No amount is too small. Donations can also be made securely using any of the major credit cards.
If you find the Chester/Lake Almanor Weather Website useful to you, please consider making a small donation to help offset the routine expenses of operation of this website.
Thanks for your kind support!
---
Today's Weather Story
Today through Monday will be very warm. A cool then will then occur with temperatures falling to around 70 by Wednesday. As far as rain, there will be just a few showers and possibly a stray thunderstorm in the Sierra this weekend. Widespread rain chances are then expected early next week. At this time the rain amounts for early next week are not expected to be heavy.
Warm temperatures this weekend with high temperatures in the mid 80s to around 90 in the Valley, but rivers and lakes will be cold with water temperatures in the low 40s to low 60s. People in or near area lakes, rivers, and streams should remain cautious to the dangers of cold springtime waters. If exposed to cold waters, even experienced swimmers can lose muscle control very quickly. Always wear a life vest during water activities and keep a close eye on children in or near the water. Symptoms of hypothermia include: shivering, cold hands and feet, numbness, loss of dexterity, mental sluggishness, and pain from cold. If you witness someone with any of these symptoms, find help immediately.
---
Useful Weather Links
Area Forecast Discussion
California State Weather Data
California WeatherShare Temperatures
California Hourly Weather Roundup
NWS Mesonet Observations
Precipitation Information Resources
Drought Information Resources
Northern California Climate Summaries
NOAA's El Niño Portal
---
National Outlook
Click Here for-----> NOAA Watch - U.S. Daily Briefing
Click Here for-----> NOAA/NWS Storm Prediction Center
Click Here for-----> NOAA Watch - Headlines
Click Here for-----> NOAA - Daily Weather Maps
Severe weather possible from central Plains to Gulf Coast; Heavy rain for Gulf Coast
The NWS Storm Prediction Center is forecasting a risk of severe thunderstorms Saturday from the central Plains and mid-Missouri Valley southward across Texas and eastward across the Gulf Coastal states. These thunderstorms will be capable of producing hail and locally damaging winds. In addition, heavy rain could lead to flash flooding along the Gulf Coast where Flash Flood Watches are in effect.
...Episodes of severe weather including flash flooding will be possible this weekend from the central and southern plains into and across the lower-middle Mississippi valley...
...Lingering snow showers over the central Rockies to end tonight..
A strong spring storm system over the central Rockies will be partially responsible for an active weekend of weather across the central and southern part of the lower 48. A favorable combination of deep moisture from the Gulf of Mexico, instability and wind shear are expected to be in place out ahead of a mid-level cyclone currently over the central Rockies. The potential for tornadoes, large hail, strong winds and flash flooding will be in place at times throughout the weekend out ahead of an advancing cold front.
Temperatures directly beneath this storm system are cold enough to support higher elevation snow across Colorado and Wyoming, but as the storm system departs into the Great Plains tonight, snow showers will come to an end. The greatest threat for flash flooding will be today and tonight from the upper Texas coast to the Florida panhandle, where recent heavy rains have made for saturated soils which will again see a threat for excessive rainfall rates.
Regarding temperatures, highs today will be well into the 70s with a few pockets of lower 80s from the Midwest to the Mid-Atlantic states, but much cooler weather is expected here for Sunday along with some rain. Temperatures will fall to 5 to 15 degrees below average across the central U.S. in the wake of the cold front referenced above. The western U.S. will continue to see mild temperatures of 10 to 15 degrees above average under fair skies and upper level ridging aloft.
Short Range Forecast Graphic available Here.
NOTE: The HPC National Forecast Map above, provides an overview of today's national weather with an emphasis on certain hazardous and significant weather. It summarizes forecasts from several NCEP Service Centers including the Storm Prediction Center (for severe thunderstorm and tornado outlooks), the National Hurricane Center (for tropical storm and hurricane forecasts), and the Hydrometeorological Prediction Center (for information concerning heavy rainfall, flooding, winter weather, and general weather). With an overlaid frontal forecast, this display serves as a great overview of the weather for the current day! The National Forecast Map is prepared twice daily at the Hydrometeorological Prediction Center.
U.S. Severe Weather Alerts Map
NWS Weather And Hazards Data Viewer
---
---
Weather History for April 18
1880

- More than two dozen tornadoes were reported from Kansas and Arkansas to Wisconsin and Michigan. More than 100 persons were killed, including 65 persons at Marshfield MO. (David Ludlum)


1906

- A severe earthquake shook San Francisco, and unusual easterly winds spread fires destroying the city. (David Ludlum)


1944

- California experienced its worst hailstorm of record. Damage mounted to two million dollars as two consecutive storms devastated the Sacramento Valley destroying the fruit crop. (The Weather Channel)


1957

- A dust devil near Dracut MA lifted a small child three feet into the air, and rolled two other children on the ground. Fortunately none of the three were hurt. The dust devil was accompanied by a loud whistling sound as it moved westward. (The Weather Channel)


1970

- Rapid City, SD, received a record 22 inches of snow in 24 hours. (17th-18th) (The Weather Channel)


1987

- Thirty-one cities in the central U.S. reported record high temperatures for the date, including International Falls MN with a reading of 88 degrees, and Bismarck ND with a high of 92 degrees. A sharp cold front produced high winds in the western U.S. Winds in Utah gusted to 99 mph at the Park City Angle Station, and capsized a boat on Utah Lake drowning four persons. (The National Weather Summary) (Storm Data)


1988

- Afternoon and evening thunderstorms produced large hail and damaging winds in the southeastern U.S. A strong (F-2) tornado severely damaged seventeen mobile homes near Bainbridge GA injuring three persons. (The National Weather Summary) (Storm Data)


1989

- Thunderstorms produced large hail and damaging winds in Texas, Oklahoma and Arkansas. A thunderstorm in Pecos County of southwest Texas produced wind gusts to 90 mph at Imperial. (Storm Data) (The National Weather Summary)


1990

- Heavy snow blanketed the west central valleys and southwest mountains of Colorado with up to 18 inches of snow. Nine cities from the Mid Mississippi Valley to the Middle Atlantic Coast Region reported record low temperatures for the date, including Fort Wayne IND with a reading of 23 degrees. (The National Weather Summary) (Storm Data)


Information courtesy of weatherforyou.com
---
Star Gazers 1515 - April 13-19, 2015
"Albedo"
For more on the Sun, Moon and the Stars, Click Here!
---
---
News of the Day
Click Here for Google California News
Click Here for More California News