There are no active watches, warnings or advisories for zone CAZ068.
For Multiple Area Watches, Warnings and Advisories issued by the NWS Sacramento,
Click Here
.
For Multiple Area Watches, Warnings or Advisories for California,
Click Here
.
Updated:

@
Summary / Temperature
Wind
Rain/Melted Snow
Cloud Level

Dry





91.8°F





Feels like:




88°F




Temp rate:


+3.2°F


24-hrs ago:


88.8°F


24-hr diff:


3°F

Temp:
Today
Yesterday
High:

92.1°F


3:40pm
92.7°F
4:38pm
Low:

57.5°F


3:51am
50.7°F
6:47am
NWS:
High
Low
Normal:
66.2°F
33.8°F
Record:
89.6°F
21.2°F
Year:
1997
1986

NE




0.0




Gust:

0.0

0

Bft -

Calm

60-Min Avg:
Calm
120-Min Avg:
Calm
Max Gust:

6.0 mph

2:14pm

Month:
14.0 mph Jul 23

Today:

0.00 in

Yesterday:

0.00 in

Last
Rain:
7/21/2014
3:21 AM
July:

0.04 in

Last 7 Days:
0.00 in
Rain Season:1

0.04 in

Rain Days:
51 in 2014
7 days since last rain.

Barometer ( inHg)
Humidity/Dew Point
Moon

Barometer:

29.731 inHg

1-Hr Trend:

Falling slowly

3-Hr Trend:
Falling
High:

29.852

| Low:

29.730

Humidity:

14

%
Humidex:

88.9°F

Dew Point:

35.8°F

Wetbulb:

63.1°F

Waxing Crescent
8%
Illuminated

UV Forecast
Last Hour Difference

29 Jul 2014

Very High

9.0
30 Jul 2014

Very High

8.8
31 Jul 2014

Very High

9.2

Temperature: +3.2
Humidity: + 1
Barometer: -0.016

Heat Index
Cooling Degree Days
Sun

Current:

87.5°F

Today:

87.9°F

3:44pm

Yesterday:
88.4°F
Last Week:
89.0°F
Record:
94.5°F 19-Jul-2014

Today:
0.4
July:
161.6
2014 to Date:
201.4
Heating Degree Days
2014 to Date:
3034.4

Daylight:
14:24
:59 Min

Almanac
Snow3
Station All Time Records
Fire Risk

| | |
| --- | --- |
| Sunrise: | 5:59am |
| Sunset: | 8:23pm |
| Moonrise: | 8:41am |
| Moonset: | 9:03pm |
| Full Moon: | 10 August 2014 |
| New Moon: | 14:13 UTC 25 August 2014 |
| Current: | Moon age: 2 days,16 hours,27 minutes,8% |

Today:
0.00 in
Yesterday:
0.00 in
July:
0.00 in
Season Total:2
0.00 in
Snow Depth:
0.00 in
0 snow day in July
0 snow day in all 2014.
Outside Now
Air Density:
1.142 kg/m3
Cloud Height:

16935 ft

HIGHS:
LOWS:
99.3°F
01-Jul-2014
-9.0°F
13-Jan-2013
Day Time Records
81.1 F on: Jul 03 2013
13.1F on: Jan 13 2013
Night Time Records
72.5F on: Jul 11 2014
1.6F on: Jan 13 2013
ICN:0 ISS:Ok CON:4.2 RCP:98%

Chandler Burning Index
Currently:
134.9 at 3:50 PM

1 Rain season: July 1st to June 30th. 2 Snow season July 1st to June 30th. 3 Snow manually measured

NWS Weather Forecast - Late Afternoon's and Tonight's Outlook
Late
Afternoon

Slight Chc
T-Storms
Hi

91 °F

NWS forecast: A 20 percent chance of showers and thunderstorms. Mostly sunny, with a high near 91. West wind around 5 mph.
Local station forecast:

Mostly clear with little temp. change.

Tonight


Isolated
T-Storms
Lo

54 °F

NWS forecast: Isolated showers and thunderstorms before 11pm. Partly cloudy, with a low around 54. South southwest wind around 5 mph becoming calm in the evening. Chance of precipitation is 20%.
NWS Short Term Weather Forecast
Tonight


Isolated
T-Storms
Lo

54 °F

Wednesday


Slight Chc
T-Storms
Hi

94 °F

Wednesday
Night

Partly
Cloudy
Lo

54 °F

Thursday


Slight Chc
T-Storms
Hi

91 °F

Thursday
Night

Partly
Cloudy
Lo

54 °F

Friday


Mostly
Sunny
Hi

92 °F

Friday
Night

Partly
Cloudy
Lo

52 °F

Saturday


Sunny

Hi

93 °F
Chester, CA Forecast en Español
NWS Hourly Weather Graph For Chester, CA The Next 48 Hours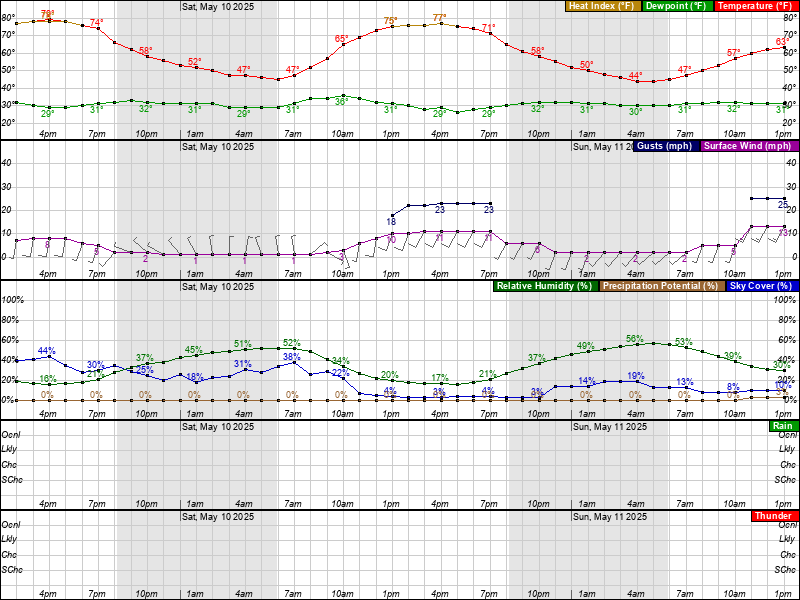 Meteogram courtesy of NOAA-National Weather Service
---
SAC - National Weather Service On Facebook
RENO - National Weather Service On Facebook


Please Donate to help maintain the operation of this Weather Station!
This weather site is a hobby and involves a considerable expenditure of time and money. Your contribution will help continue operation and maintenance of this weather station! You can use the donate button below to make a secure donation with PayPal. No amount is too small. Donations can also be made securely using any of the major credit cards.
If you find the Chester/Lake Almanor Weather Website useful to you, please consider making a small donation to help offset the routine expenses of operation of this website.
Thanks for your kind support!
---
Today's Weather Story
Increase in moisture over the area is resulting in cloudiness with a few light showers and sprinkles across interior NorCal this morning. This will give way to sunnier skies and summer-like temperatures later today, with afternoon mountain thunderstorms possible. When thunder roars, go indoors!
Be Summer Weather Ready! Click Here For Tips And Information!
---
Useful Weather Links
Area Forecast Discussion
California State Weather Data
California WeatherShare Temperatures
California Hourly Weather Roundup
NWS Mesonet Observations
Drought Information Resources
Northern California Climate Summaries
NOAA's El Niño Portal
---
National Outlook
Click Here for-----> NOAA Watch - U.S. Daily Briefing
Click Here for-----> NOAA Watch - Headlines
Click Here for-----> NOAA - Daily Weather Maps
Flash flooding possible across parts of Great Basin and southern Plains
A very wet pattern will persist across the Great Basin and into the southern Plains on Tuesday. Heavy rainfall is expected from southeastern Wyoming across Colorado, northeastern New Mexico into the Texas Panhandle and western Oklahoma. Isolated rainfall rates of 1-2 inches per hour will bring a risk of flash flooding to these areas
...Heavy rains and flash flooding expected across eastern Colorado and much of Oklahoma...
...Below normal temperatures will continue beneath a broad trough carved out over the eastern half of the Nation...
Widespread showers will continue across the central Great Basin and central/southern Rockies the next few days. Much of the activity should be scattered in nature...but anomalous moisture trapped over the region could lead to locally moderate to heavy rains. Slightly farther east...energy diving southeastward through the central Rockies will help organize an area of heavy rains and thunderstorms to the north of a surface low and frontal boundary strengthening over the Colorado Front Range Tuesday afternoon. Although the drought stricken areas could use the precipitation...locally heavy downpours could lead to flash flooding. The heavy rains and threat for flash flooding will spread across much of Oklahoma as the energy aloft continues its southeastward trek Tuesday night into Wednesday.
Below normal temperatures will continue beneath a broad and anomalous trough carved out over the eastern half of the Nation. Much of the east will stay precipitation free; however...a cold front dropping down from Canada will trigger scattered showers and thunderstorms across the Great Lakes region. Also...scattered convection will continue over Florida and the Gulf Coast the next few days...to the south of a frontal boundary plunged across the southern tier of the Country.
While the east remains relatively cool...an amplified upper ridge will keep temperatures above normal over the northern Rockies and Intermountain West. Heat advisories have been issued for portions of Washington state...where daytime temperatures will soar into triple digits and overnight lows will barely drop out of the seventies.
Short Range Forecast Graphics available Here.
NOTE: The HPC National Forecast Map above, provides an overview of today's national weather with an emphasis on certain hazardous and significant weather. It summarizes forecasts from several NCEP Service Centers including the Storm Prediction Center (for severe thunderstorm and tornado outlooks), the National Hurricane Center (for tropical storm and hurricane forecasts), and the Hydrometeorological Prediction Center (for information concerning heavy rainfall, flooding, winter weather, and general weather). With an overlaid frontal forecast, this display serves as a great overview of the weather for the current day! The National Forecast Map is prepared twice daily at the Hydrometeorological Prediction Center.
U.S. Severe Weather Alerts Map
NWS Weather And Hazards Data Viewer
---
---
Weather History for July 29
1898

- The temperature at Prineville, OR, soared to 119 degrees to establish a state record, which was tied on the 10th of August at Pendleton. (The Weather Channel)


1905

- Heavy rain in southwestern Connecticut caused a dam break, and the resulting flood caused a quarter of a million dollars damage at Bridgeport. As much as eleven inches of rain fell prior to the flood. (David Ludlum)


1981

- Fifty cattle, each weighing 800 pounds, were killed by lightning near Vance, AL. The lightning struck a tree and then spread along the ground killing the cattle. (The Weather Channel)


1987

- Thunderstorms produced severe weather from Minnesota to Indiana and Illinois. A thunderstorm at Janesville, WI, produced wind gusts to 104 mph which flipped over two airplanes, and blew another plane 300 feet down the runway. The northeastern U.S. experienced some relief from the heat. Nine cities reported record low temperatures for the date, including Saint Johnsbury, VT, with a reading of 42 degrees. Barnet, VT, reported a morning low of 33 degrees, with frost reported on vegetation. (Storm Data) (The National Weather Summary)


1988

- Afternoon and evening thunderstorms produced severe weather in Minnesota and Wisconsin. Hail three inches in diameter was reported south of Saint Cloud, MN. Hot weather prevailed in the western U.S. Fresno, CA reported a record thirteen straight days of 100 degree heat. (Storm Data) (The National Weather Summary)


1989

- Morning thunderstorms in the Upper Midwest produced more than five inches of rain west of Virgil, SD. Afternoon and evening thunderstorms deluged the foothills and adjacent plains of Colorado with heavy rain. Rains of six to seven and a half inches fell in eight hours north of Greeley. Hail and heavy rain caused several million dollars damage in Weld County. (Storm Data) (The National Weather Summary)


Information courtesy of weatherforyou.com
---
Star Gazers 1430 - July 28 - Aug 3, 2014
"Super Moon ?? Not So Much"
For more on the Sun, Moon and the Stars, Click Here!
---
---
News of the Day
Click Here for Google California News
Click Here for More California News