There are no active watches, warnings or advisories for zone CAZ068.
For Multiple Area Watches, Warnings and Advisories issued by the NWS Sacramento,
Click Here
.
For Multiple Area Watches, Warnings or Advisories for California,
Click Here
.
Updated:

@
Summary / Temperature
Wind
Rain/Melted Snow
Cloud Level

Dry





20.6°F





Feels like:




21°F




Temp rate:


+11.0°F


24-hrs ago:


4.1°F


24-hr diff:


16.5°F

Temp:
Today
Yesterday
High:

20.6°F


10:18am
31.9°F
12:56pm
Low:

5.2°F


6:19am
10.2°F
2:12am
NWS:
High
Low
Normal:
66.2°F
33.8°F
Record:
89.6°F
21.2°F
Year:
1997
1986

NE




0.0




Gust:

0.0

0

Bft -

Calm

60-Min Avg:
Calm
120-Min Avg:
Calm
Max Gust:

2.0 mph

8:24am

Month:
17.0 mph Dec 2

Today:

0.00 in

Yesterday:

0.00 in

Last
Rain:
12/8/2013
12:22 PM
December:

0.17 in

Last 7 Days:
0.05 in
Rain Season:1

1.04 in

Rain Days:
57 in 2013
2 days since last rain.

Barometer ( inHg)
Humidity/Dew Point
Moon

Barometer:

30.460 inHg

1-Hr Trend:

Falling slowly

3-Hr Trend:
Steady
High:

30.544

| Low:

30.444

Humidity:

75

%
Humidex:

13.5°F

Dew Point:

13.9°F

Wetbulb:

18.9°F

Waxing Gibbous
62%
Illuminated

UV Forecast
Last Hour Difference

10 Dec 2013

Low

1.7
11 Dec 2013

Low

1.7
12 Dec 2013

Low

1.8

Temperature: +11.0
Humidity: + 2
Barometer: -0.076

Wind Chill
Heating Degree Days
Sun

Current:

20.6°F

Today:

5.2°F

at 6:19am

Yesterday:
4.9°F
Last Week:
5.5°F
Record:
-9.0°F 13-Jan-2013

Today:
12.3
December:
170.1
2013 to Date:
5083.1
Cooling Degree Days
2013 to Date:
101.5

Daylight:
09:22
:58 Min

Almanac
Snow3
Station All Time Records
Fire Risk

| | |
| --- | --- |
| Sunrise: | 7:16am |
| Sunset: | 4:38pm |
| Moonrise: | 12:46am |
| Moonset: | 12:38am |
| Full Moon: | 17 December 2013 |
| New Moon: | 11:15 UTC 1 January 2014 |
| Current: | Moon age: 8 days,12 hours,48 minutes,62% |

Today:
0.00 in
Yesterday:
0.00 in
December:
0.00 in
Season Total:2
0.00 in
Snow Depth:
0.00 in
0 snow day in December
0 snow day in all 2013.
Outside Now
Air Density:
1.345 kg/m3
Cloud Height:

6057 ft

HIGHS:
LOWS:
96.3°F
02-Jul-2013
-9.0°F
13-Jan-2013
Day Time Records
81.1 F on: Jul 03 2013
13.1F on: Jan 13 2013
Night Time Records
70.9F on: Jul 25 2010
1.6F on: Jan 13 2013
ICN:0 ISS:Ok CON:4.2 RCP:98%

Chandler Burning Index
Currently:
-0.3 at 10:20 AM

1 Rain season: July 1st to June 30th. 2 Snow season July 1st to June 30th. 3 Snow manually measured

NWS Weather Forecast - Today's and Tonight's Outlook
Today


Sunny

Hi

43 °F

NWS forecast: Sunny, with a high near 43. Calm wind.
Local station forecast:

Increasing clouds and warmer. precipitation possible within 24 to 48 hrs.

Tonight


Patchy
Freezing Fog
Lo

8 °F

NWS forecast: Patchy freezing fog after 10pm. Partly cloudy, with a low around 8. Light north northeast wind.
NWS Short Term Weather Forecast
Tonight


Patchy
Freezing Fog
Lo

8 °F

Wednesday


Patchy
Freezing Fog
Hi

42 °F

Wednesday
Night

Patchy
Freezing Fog
Lo

10 °F

Thursday


Patchy
Freezing Fog
Hi

46 °F

Thursday
Night

Partly
Cloudy
Lo

20 °F

Friday


Mostly
Sunny
Hi

44 °F

Friday
Night

Partly
Cloudy
Lo

21 °F

Saturday


Sunny

Hi

49 °F
Chester, CA Forecast en Español
NWS Hourly Weather Graph For Chester, CA The Next 48 Hours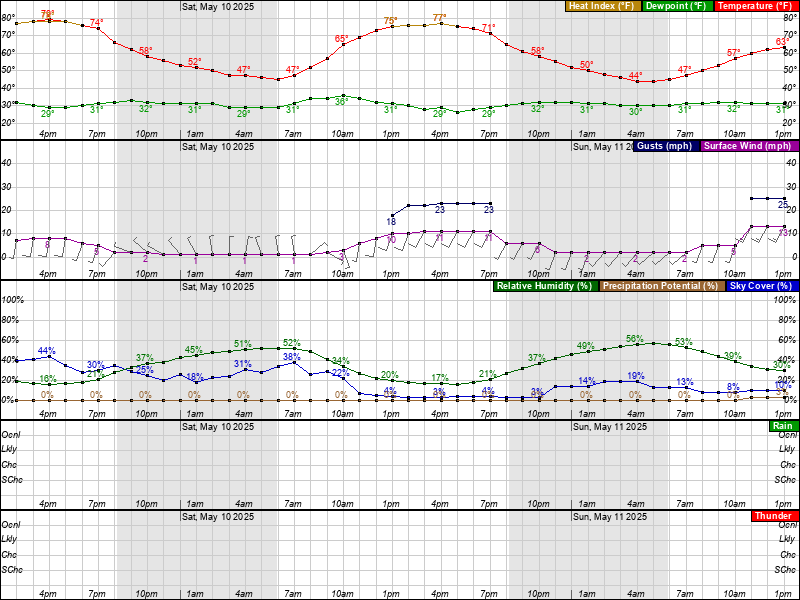 Meteogram courtesy of NOAA-National Weather Service
---
SAC - National Weather Service On Facebook
RENO - National Weather Service On Facebook


Please Donate to help maintain the operation of this Weather Station!
This weather site is a hobby and involves a considerable expenditure of time and money. Your contribution will help continue operation and maintenance of this weather station! You can use the donate button below to make a secure donation with PayPal. No amount is too small. Donations can also be made securely using any of the major credit cards.
If you find the Chester/Lake Almanor Weather Website useful to you, please consider making a small donation to help offset the routine expenses of operation of this website.
Thanks for your kind support!
---
Today's Weather Story
Cold temperatures are expected to continue through midweek. Why is this happening? Well, a potent and very persistent jet stream originating out of Canada is pumping dry Arctic air across much of the United States. Don't forget to keep taking precautionary measures to protect your pets, plants, and pipes!
It is very important to be prepared for cold weather conditions. Here are some safety tips to follow. For more information, visit http://www.ready.gov/winter-weather or http://www.nws.noaa.gov/om/winterstorm/winterstorms.pdf
---
Area Forecast Discussion
California State Weather Data
California WeatherShare Temperatures
California Hourly Weather Roundup
NWS Mesonet Observations
---
National Outlook
Click Here for-----> NOAA Watch - U.S. Daily Briefing
Click Here for-----> NOAA Watch - Headlines
Click Here for-----> NOAA - Daily Weather Maps
Winter Weather Impacting the Eastern U.S. Tuesday
Snow is falling from Tennessee Valley into the Mid-Atlantic and New England Tuesday . The fast moving system is creating swath of 2 to 7 inches of snow from southwest Virginia to the New England coast. Heavy Lake Effect snows will also impact the Lower Great Lakes into later this week, with up to two feet of accumulation.
...Snow for the Mid-Atlantic into Southern New England...
...Snow for the Great Lakes...
A wave of low pressure along a boundary extending across the Southeast will move off the Carolina Coast by Tuesday afternoon. The system will produce snow over parts of the Ohio Valley/Northern Mid-Atlantic that will move to Southern New England by Tuesday afternoon, ending by Tuesday evening. Light to Moderate rain will develop from the Eastern Gulf Coast to the Southern Mid-Atlantic that will move off the Southeast/Southern Mid-Atlantic Coast by Tuesday evening. Additionally, a small area of showers and thunderstorms will develop over the Southeast Coast that will move offshore by late Tuesday morning. The associated front will linger over the Florida peninsula on Wednesday, triggering showers and thunderstorms over parts of the southern tip of Florida.
Meanwhile, a couple of quick moving clipper systems will move across the Great Lakes on Tuesday and Wednesday producing lake effect/lake enhanced snow over the Great Lakes through Wednesday morning. Lake effect snow will continue downwind from the Great Lakes through Wednesday evening in the wake of the clippers. The second clipper system will also produce snow over parts of the Northern High Plains on Tuesday morning, moving to the Middle Missouri Valley by Tuesday evening before moving into the Great Lakes on Wednesday.
Elsewhere, high pressure over Texas will move northeastward to the Mid-Atlantic by Wednesday morning. A second area of high pressure over Western Canada will move southeastward to the Middle Mississippi Valley by Wednesday evening.
NOTE: The HPC National Forecast Map above, provides an overview of today's national weather with an emphasis on certain hazardous and significant weather. It summarizes forecasts from several NCEP Service Centers including the Storm Prediction Center (for severe thunderstorm and tornado outlooks), the National Hurricane Center (for tropical storm and hurricane forecasts), and the Hydrometeorological Prediction Center (for information concerning heavy rainfall, flooding, winter weather, and general weather). With an overlaid frontal forecast, this display serves as a great overview of the weather for the current day! The National Forecast Map is prepared twice daily at the Hydrometeorological Prediction Center.
U.S. Severe Weather Alerts Map
NWS Weather And Hazards Data Viewer
---
---
Weather History for December 10
1699

- A severe ice storm hit Boston, MA, causing much damage to orchards. (The Weather Channel)


1946

- The temperature at New York City soared to 70 degrees. (David Ludlum)


1949

- The barometric pressure at Las Vegas, NV, reached a record low reading of 29.17 inches (987.8 millibars). (The Weather Channel)


1987

- A cold front brought high winds to the eastern slopes of the Northern and Central Rockies. Winds gusted to 97 mph at Mines Peak CO. In Wyoming, up to a foot of snow blanketed the Teton Village Ski Resort, northwest of Jackson. Strong chinook winds in the Central High Plains Region, gusting to 61 mph at Scottsbluff NE, warmed temperatures to near 70 degrees. (Storm Data) (The National Weather Summary)


1988

- Squalls produced heavy snow in the Lower Great Lakes Region. Totals in northeastern Ohio ranged up to 14 inches at Harpersfield, and totals in western New York State ranged up to 14 inches at Sodus. In the snowbelt of Upper Michigan, the Ontonogon area reported two feet of snow in two days. (Storm Data) (The National Weather Summary)


1989

- Heavy snow fell across the northern and central mountains of Colorado, with 24 inches reported at Steamboat Springs. Six to twelve inches of snow fell in the Denver and Boulder area delaying plane flights and snarling traffic. Heavy snow also spread across the Central Plains into the Mississippi Valley. Winner SD received 11 inches of snow, and more than ten inches of snow was reported north of Sioux City IA. (The National Weather Summary) (Storm Data)


1992

- A slow-moving Nor'easter storm batters the northeast U.S. coast killing 19 people.


Information courtesy of weatherforyou.com
---
---
News of the Day
Click Here for Google California News
Click Here for More California News